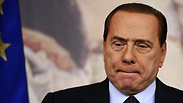 Former Italian Prime Minister Silvio Berlusconi
Photo: AFP
German politicians on Sunday condemned as "unacceptable" and "absurd" comments by former Italian Prime Minister Silvio Berlusconi that Germans denied the existence of Nazi concentration camps.

Social Democrat (SPD) General Secretary Yasmin Fahimi described the comments as "repugnant, shocking and completely unacceptable".

"These lapses ... not only damage the image of Italy but also endanger the political culture and values of Europe," she told Reuters.

She demanded that conservative Chancellor Angela Merkel respond. Merkel's Christian Democrats (CDU) are allies of Berlusconi's Forza Italia in the European parliament's European Peoples Party conservative grouping.

CDU General-Secretary Peter Tauber said the comments were "so absurd that they don't deserve commenting on".

Berlusconi said on Saturday: "According to the Germans, there never were concentration camps."

He caused a storm in 2003 by jokingly offering German Social Democrat Martin Schulz a film part as a concentration camp "kapo", or inmate appointed as an overseer.

Social Democrat Schulz told Der Spiegel magazine on Sunday it was also shocking that an Italian sister party of the CDU was campaigning for May's European elections with anti-German slogans, such as "More Italy, Less Germany".

"Such a slogan is outrageous," he said.

German conservative Herbert Reul also criticised the slogan, saying it was "out of order" and he could not understand it.

Anti-German rhetoric has been on the rise in Italy and other heavily indebted euro states, since the euro zone crisis led to German demands for economic austerity.

Berlusconi provoked the latest in a long line of controversies when he took another swipe at his old foe Martin Schulz, the German president of the European parliament and the center-left candidate to lead the EU Commission.

Referring to the storm created in 2003 when he jokingly offered Schulz a film part as a concentration camp "kapo", an inmate appointed as overseer, Berlusconi told a party meeting that the comments were made in a spirit of ironical humor.

"I said, nicely, that I'd get him a job given that a film director friend of mine was planning to make a film on the German concentration camps," he said.

He then added: "According to the Germans, there never were concentration camps."

The Party of European Socialists (PES), the umbrella party that groups European center-left parties, described the comments as "despicable" and called on the center-right European People's Party, to which Berlusconi's Forza Italia is affiliated, to condemn them.

"These comments by Berlusconi are an insult to the entire German people and not only an insult to Martin Schulz," said PES President Sergei Stanishev in a statement.

Germany, which has gone to great lengths since World War Two to acknowledge and confront the atrocities committed during its Nazi past, is unlikely to be amused. But whether the comments will do Berlusconi any harm among the hardcore supporters who remain faithful to him at home is another matter.

Casual anti-German rhetoric has risen sharply since the outbreak of the eurozone crisis. Austerity measures imposed to shore up public finances have been blamed by many political forces on demands by Berlin and Brussels.

Berlusconi said his center-right Forza Italia would pick up around 20 percent support in upcoming elections to the European parliament at the end of May.

That would be roughly in line with recent opinion polls which put it behind Prime Minister Matteo Renzi's center-left Democratic Party and the anti-establishment 5-Star Movement.

Explaining the original comments about Schulz, Berlusconi said that he had been thinking of a character in "Hogan's Heroes", a 1960s comedy about a prisoner of war camp in which a quick-witted American runs rings around his stupid German guard, Sergeant Schultz.

"I was thinking of paying him a compliment. A fundamental mistake," he said.

Berlusconi is expected soon to begin serving a community service order imposed after his conviction for tax fraud last year. The order limits his movements but does not restrict his political activity.