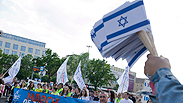 'March of the Living' in Hungary.
Photo: AP
Tens of thousands of Hungarians joined a protest march on Sunday against anti-Semitism, three weeks after the far-right Jobbik party won nearly a quarter of votes cast in a national election.
Budapest's annual 'March of the Living' has drawn an increasing number of participants in recent years to commemorate the deaths of around half a million Hungarian Jews during the Holocaust in World War Two.
Sense of Responsibility
Hamburg family looking to return valuable items left behind by Jewish friends when they were sent to their death in Nazi concentration camp in 1941.
Among those traveling the Train of Life from Budapest to Auschwitz was Frank Feiffer, a 44-year-old travel agent from Tubingen, Germany. Frank is not a descendent of Holocaust survivors - but rather of a Nazi sniper who also targeted Hungarian Jews.
Frank is a member of the "March for Life" German program, which since its establishment in 2007, has connected between descendants of Nazis from various European countries, who together attempt to grapple with the crimes their forefathers committed. 250 members of this organization have recently taken part in a walk along the route of former death marches taken by Hungarian Jews.
'March of the Living' in Hungary (Photo: EPA)
"I did not know about the things he did in the world war," Frank said, "until I began to research the subject 12 years ago. In Germany, families unfortunately deal mainly with stories about grandparents who were wounded during the war or who were taken captive. There is no room for stories about the crimes that they committed. I received accurate information from the central military archive in Berlin about where he served in the war."
Frank shows the papers of his grandfather, Ernest Haman, the father of his mother. "Did you see his last name? It's like Haman from the Book of Esther. Online, I found detailed information about what his unit did. Even before the Nazis came to power, my grandfather was in prison for his Nazi ideologies and because of a sexual assault of a minor."
Sharing what he learned of his father's past, Frank said that "He joined the Waffen-SS in 1941. He was a professional sniper and was stationed with his unit in various places in the occupied areas – Poland, the Baltic States, the Balkans and Hungary. I can only guess what he did to the Jews with his military "skills".
"The information tore me up, because I love Israel and the Jews. Many times I prayed for forgiveness for what my family did to the Jews. This is also the reason why I'm going to Auschwitz now with my wife. It horrifies me to hear what is happening today in Hungary. What's more severe is that they're trying to sweep the anti-Semitic frenzy taking place here under the carpet."
After Sunday's march, around 600 participants boarded a train bound for Poland, where they were due to take part in a commemoration at the Nazi death camp of Auschwitz near Krakow.
Speakers at an event commemorating the 70th anniversary of the Holocaust in Hungary called for dialogue with the government, condemning its plans for a disputed memorial to Nazi Germany's 1944 occupation.
Gabor Gordon, an organizer of the march, said the memorial, in which the figure of Germany's imperial eagle swoops down on the archangel Gabriel, symbolizing Hungary, "is unacceptable in its known form."
His words were echoed by other speakers at the "March of the Living," including Douglas Davidson, the US State Department's special envoy for Holocaust issues, who called for "constructive engagement" on the disputed issues, and Chief Rabbi Peter Kardos, an Auschwitz survivor.
"We want to live in a country where a memorial which falsifies history cannot be built," Kardos said, drawing sustained applause from the crowd.
The marchers, many holding European Union and Israeli flags, attended the inauguration of a Holocaust monument on a bank of the Danube where Jews were executed during the war. They then marched in silence through the city to an old railway station from which trains departed 70 years ago for Nazi death camps.
More people are taking part because they fear anti-Semitism is again on the rise, said Miklos Deutsch, 64, a restaurant manager, after a shofar, a traditional Jewish instrument made from a ram's horn, gave the signal for the march to start.
"The cause, indeed, is poverty. When the economy does not really work and people are poor, somebody has to be blamed, and the Jews and the gypsies are blamed," he said.
"The strengthening of Jobbik is dangerous," added Deutsch, whose parents lost most of their relatives in the Holocaust.
Unemployment has fallen under the rule of Prime Minister Viktor Orban's conservative Fidesz party, which again secured a two-thirds parliamentary majority in this month's election.
But many Hungarians still struggle to make ends meet and this discontent has helped Jobbik increase its support to 21 percent of the national vote from 16 percent four years ago.
Jobbik denies being anti-Semitic but does little to dispel its reputation for intolerance. Its followers are often openly hostile to Jews and other ethnic and religious minorities.
"Anti-Semitism has risen. You can feel that in all segments of society: in politics, in media, in schools and in social intercourse," said another marcher, Gyorgy Burjan, a retired engineer, adding that Jobbik had capitalized on that.
Jewish groups have also protested against a plan to build a memorial to Hungary's 1944 German occupation, saying it would conceal the responsibility of local authorities who collaborated with the Germans to ship hundreds of thousands to the camps.