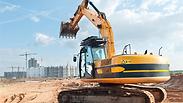 Israel freezes contruction in West Bank
Photo: Shutterstock
Israel confirmed Monday it has frozen plans to build housing for Palestinians in Area C of the West Bank, which is under full Israeli control.
An official from the Defense Ministry's administration in the Palestinian territories said that the decision was made after the Palestinian Authority last month applied to join a dozen international organizations and treaties, including the Geneva Conventions.
Palestinian President Mahmoud Abbas signed the applications in a live televised ceremony after Israel failed to carry out the release of 26 long-term Palestinian prisoners to which it agreed last summer.
Related stories:
"These projects involved the construction of approximately 600 residential units, as well as the legalization of homes built without permits," the official said.
Israel also froze five "illegal" projects funded by donations from foreign countries. The projects include a playground funded by the Italian government, a renovation of wells with Swedish funding and the distribution of the tents provided by the United Nations.
"We are following a new policy of stopping all illegal project financed by foreign grants, and immediately launching a complaint with the embassies and consulates of the countries concerned," the official said.
Last year, the military administration identified 1,646 illegal constructions in the West Bank. Of that number, 1,288 had been built by Palestinians and 373 of them were destroyed. Settlers built 358 illegal structures, of which 147 were destroyed.