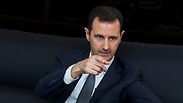 Running for another term. Assad.
Photo: Reuters
BEIRUT - Syrian President Bashar Assad declared on Monday he will run for re-election in a vote on June 3 which is widely expected to secure him a third term in office despite a three-year civil war stemming from protests against his rule.

Parliament Speaker Mohammad al-Laham made the announcement during a televised session of Syria's parliament.

Assad's Western and Arab foes have condemned the election as a parody of democracy, saying no credible poll can be held in a country where 6 million people have been displaced, 2.5 million have fled as refugees and hundreds are killed daily.

Assad's letter to Syria's constitutional court, read out in parliament by Laham, said: "I ... Dr Bashar Hafez al-Assad ... wish to nominate myself for the post of president of the republic, hoping that parliament will endorse it."

A handful of other candidates have put themselves forward to run in the election but Syria's opposition leaders in exile, who are barred from standing, have dismissed the vote as a charade to extend four decades of Assad family rule in Syria.

Syria's constitution says presidential candidates must win the backing of 35 members of the pro-Assad parliament, and cannot have lived outside the country in the last 10 years.