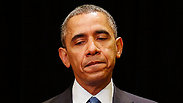 US President Barack Obama: Never again
Photo: Reuters
US President Barack Obama has urged on Monday to "recommit ourselves to the task of remembrance, and to always oppose anti-Semitism wherever it takes root."

"Even as we mourn those whose lives were taken, this day also provides us with an opportunity to honor those who emerged from the darkness of the Shoah to rebuild their lives in new communities around the world," the president said in a statement released to commemorate Holocaust Remembrance Day.

Obama will address Holocaust survivors, along with others who worked to preserve the survivors' testimony, next week at the Shoah Foundation.

"I join people of all faiths in the United Sates, in the State of Israel, and around the world in remembering the six million Jews – innocent men, women and children – who were senselessly murdered during the Holocaust, as well as all the victims of Nazi brutality and violence," Obama said in the statement.

"Even as we mourn those whose lives were taken, this day also provides us with an opportunity to honor those who emerged from the darkness of the Shoah to rebuild their lives in new communities around the world," he added.

"On this Yom HaShoah, let us recommit ourselves to the task of remembrance, and to always oppose anti-Semitism wherever it takes root. Together, we must give enduring meaning to the words 'Never Again.'"
Canda remembers
Canada's Prime Minister Stephen Harper also issued a statement in honor of Holocaust Remembrance Day, and called for people all over the world to "combat anti-Semitism in all its forms."
In a post on his Facebook page, he said "on this occasion, Canadians from all backgrounds remember the horrors of the Shoah, pay tribute to the innocent victims and honor the brave survivors.
"Yom Hashoah reminds us that the Holocaust must never be forgotten and that we must remain vigilant against all forms of prejudice and hatred to ensure that such unspeakable acts of inhumanity never happen again."