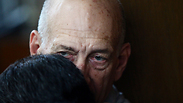 Olmert could face up to seven years in prison
Photo: Motti Kimchi
State Prosecution has requested Monday that former prime minister Ehud Olmert receive a sentence of up to seven years in prison for the central crimes he was convicted of in the Holyland affair, and up to four years for the secondary convictions.

"The influence of his acts and their severity had a devastating effect on citizens and the government," said prosecution lawyer Yonatan Tadmor.

A Tel Aviv court convicted Olmert at the end of March of two charges of bribery and said he accepted 560,000 shekels ($160,000) from developers of the Holyland project of in Jerusalem. Olmert used the money to pay the debts of his brother Yossi and close personal debts he acquired during his campaigns, paid to his assistant Shula Zaken.

Former Jerusalem Mayor Uri Lupolianski, who succeeded Olmert as the city's mayor, and Danny Dankner, the former chairman of Israel's second-biggest bank, were both charged and convicted of offering hundreds of thousands of dollars in bribes to a government official to rezone land for the project.

Related stories:

The State requested Dankner be sentenced to up to eight years, and be fined some three million shekel.

In response, Olmert's media advisor, Amir Dan said: "The prosecutions request is unproportional and completely unfounded. It seems they are trying to settle the score with Olmert more than being motivated by professional considerations."

Olmert waved the right to bring character witnesses on his belaf, opting instead to give the judge some 17 letters of recognition he received from, among others, his adopted daughter Shula Naydes, Maj.-Gen. Doron Almog, Nava Barak (ex-wife of former prime minister Ehud Barak) and Chairman of Yad Vashem Avner Shalev.

Prosecutor Yonatan Tadmor urged the judge to hand down a severe sentence to send a message. "The sentence in this case must echo out," he said, adding that "corruption, breach of trust and other similar offenses are gnawing away at the foundations of our society and destroy our perception of government."