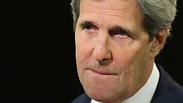 Secretary of State John Kerry
Photo: AFP
After a day of outraged responses, US Secretary of State John Kerry said Monday that he had chosen the wrong word when describing Israel's potential future as an "apartheid state" if it didn't reach a peace deal with the Palestinians.

In a statement released by the State Department, Kerry lashed out against "partisan political" attacks against him, but acknowledged his comments last week to a closed international forum could have been misinterpreted.

He said he was and is a strong supporter of Israel, which he called a "vibrant democracy." He said his remarks were only an expression of his firm belief that a two-state resolution is the only viable way to end the long-running conflict.

'Apartheid' audio by John Kerry ( )

"I will not allow my commitment to Israel to be questioned by anyone, particularly for partisan, political purposes, so I want to be crystal clear about what I believe and what I don't believe," Kerry said after US lawmakers and pro-Israel groups criticized him, with some demanding his resignation or at least an apology.

"First, Israel is a vibrant democracy and I do not believe, nor have I ever stated, publicly or privately, that Israel is an apartheid state or that it intends to become one," he said.

Related stories:

"Second, I have been around long enough to also know the power of words to create a misimpression, even when unintentional, and if I could rewind the tape, I would have chosen a different word to describe my firm belief that the only way in the long term to have a Jewish state and two nations and two peoples living side by side in peace and security is through a two state solution," Kerry said.

On Sunday, The Daily Beast reported that Kerry had told a closed-door meeting on the Trilateral Commission in Washington on Friday that Israel risked becoming an "apartheid state" with two classes of citizens if negotiations to forge a peace deal fail and a two-state solution is not reached.

The voice recording acquired by The Daily Beast was aired on Fox News early Tuesday morning.

Kerry defended his general point, noting that numerous Israeli officials, including Prime Minister Benjamin Netanyahu and his predecessors, Ehud Barak and Ehud Olmert, have made similar points in the past. But, he added that "apartheid" is "a word best left out of the debate here at home."

House GOP leader Eric Cantor, R-Virginia, said Kerry should apologize, while the American Israel Public Affairs Committee described his use of the term as offensive. Another pro-Israel lobby said Kerry should resign, a call echoed by Republican Sen. Ted Cruz of Texas in a speech on the Senate floor.

Democratic Sen. Barbara Boxer of California was also critical of Kerry's comment, saying in a tweet that: "Israel is the only democracy in the Middle East and any linkage between Israel and apartheid is nonsensical and ridiculous."
Deadline for peace
Kerry invested significant time and energy last year into bringing the two sides to the negotiating table with the goal of reaching a deal in nine months.

That deadline expires on Tuesday with the parties having failed to reach an accord, a less ambitious framework deal or even an agreement to extend the negotiations and US envoy to the talks Martin Indyk returned to Washington after Israel suspended talks on April 24.

Kerry has expressed disappointment in leaders from both sides for lacking commitment to make the compromises required for a peace agreement.

As talks broke down after Netanyahu refused to release a group of Palestinian prisoners who he had originally agreed to set free, the Palestinian Authority made an unprecedented move to be recognized as an independent nation.

Unilateral Palestinian requests to join international organizations and sign on to international treaties have drawn new sanctions from Israel, while politicians in Israel and the US were angered when Palestinian Authority President Mahmoud Abbas signed a unity agreement with Hamas in Gaza, widely recognized as a terrorist organization.

Israel confirmed additional sanctions Monday, saying it has frozen plans to build housing for Palestinians in Area C of the West Bank, which is under full Israeli control.

Perhaps the most severe sanction to be employed against the Palestinians could strain the already minimalistic economy in the West Bank.

Israel collects taxes for the Palestinian Authority worth roughly half a billion shekels a month, which includes VAT on products intended for the West Bank and Gaza.

According to a senior Palestinian source, Israel regularly deducts 100 million shekels from the funds for past debts by the Palestinians to Israel Electric Corporation, which supplies the West Bank and Gaza, as well as sewage services.

However, the source said that Israel has now raised its fixed deduction to 132 million shekels, in response to Palestinian bids to join the international community that include the Geneva Conventions.

The PA is facing a serious financial crisis, and the cut is expected to further threaten its cash flow. However, a source said, the cut will not lead to a breakdown in the PA's ability to enforce the rule of law and pay salaries to its security organs and officials.

The source further said that the PA requested a monthly transfer of some $100 million from the Arab League, fearing Israel would further threaten economic instability.

A list of the sanctions Israel is expected to implement was also given after it announced it would freeze Palestinian construction in the West Bank:

1. The authorization for installing a 3G cellular network in the West Bank would be canceled

2. The authorization for extending the activities of Palestinian mobile network Wataniya Mobile would be canceled

3. No meetings on the ministerial or ministry director general level would be allowed to take place between Israelis and their Palestinian counterparts

4. A freeze in a program which was expected to see some 14,000 dunam in Area C turned into Palestinian agriculture lands

5. A freeze in deepwater drilling in the Gaza Marine gas field

6. A freeze in funds transfers belonging to Palestinians in Israeli banks

7. Harming the freedom of movement enjoyed by senior Palestinian politicians and businessmen with VIP credentials

AFP and the Associated Press contributed to this report