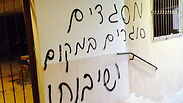 'Close mosques instead of yeshivot'
Photo: Alhaj Vassim
A Star of David was spray-painted on the wall of a mosque in the Arab town of Fureidis early Tuesday morning, along with the writing "Close mosques, not yeshivot."

In addition, residents discovered that the tires of at least 20 vehicles had been slashed.

"According to our most recent count, we found damages had been caused to 12 vehicles, and it appears there's another area in the town where cars' tires had been slashed," chief superintendent Shimon Ben-Shabo told Ynet.

Related stories:

Worshippers who arrived at the mosque for morning prayers discovered the graffiti, which is believed to refer to the Border Police's takeover of a yeshiva in the Yitzhar settlement three weeks ago.

Residents from across Fureidis were called to arrive at the targeted mosque to pray and hundreds of people gathered at the place.

The head of the Fureidis council, Yossef Meree, called the attack "very serious" and decried the fact that "there is no one to stop the suspects."

"In the Arab sector, we didn't think to stoop to that level and we didn't think of vandalizing places holy to the Jewish sector. We ask the police to urgently seek out the people who commit 'price tag' attacks before they continue vandalizing mosques and property," he added.

One of the residents of Fureidis said: "Unfortunately, the state sees the attacks on mosques and cars and doesn't do anything (to stop it). Had this happened at the Jewish sector, we'd see arrests in a short while. If the government doesn't wake up on time, this could end in disaster."

The Zikhron Ya'akov police opened an investigation into the attack. The district commander, major general Hagai Dotan, condemned the attack and said police will make every effort to find its perpetrators.

This incident joins a series of similar incidents in recent weeks of "price tag" attacks occurring inside the Green Line. Two weeks ago, a mosque in Umm al-Fahm was vandalized and the perpetrators have yet to be arrested, even though they were caught on camera.