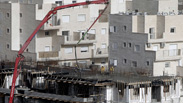 Settlement construction
Photo: AFP
Israel has approved a total of 13,851 housing units in the West Bank and East Jerusalem during the past nine months of negotiations with the Palestinians, a Peace Now report said Tuesday.

The report by the left-leaning NGO said that an average of 50 apartments were built every day in the West Bank, amounting to 1,540 every month - all while peace talks continued.

During the nine month period, 4,868 apartments were built in total, half of which were in East Jerusalem and half in Jewish settlements in the West Bank. Nine thousand new units have also been approved for construction in the near future.

The report also noted that 73 percent of completed apartments were built in isolated settlements, while 27 percent were placed close to the Green Line border dividing Israel from the West Bank.

Related stories:

The progression of settlement building has long been a critical point of negotiation for the Palestinians, who have often refused to meet with Israeli officials unless building plans were frozen.

Peace Now also noted that the current Netanyahu government has built close to three times as many homes in the West Bank as any previous government, including his first term in office, which ended in 1999.

However, Netanyahu ordered Defense Minister Moshe Ya'alon to cancel meetings planned for Wednesday that were planned in order to advance plans for settlement construction.

The meeting was supposed to take place alongside representatives from the Civil Administration who give the go ahead on building plans.

A government source told Army Radio that this isn't the best time to push for progress in settlement construction.

"We are doing everything we can to convince the world that Abu Mazen (Abbas) is a rejector of peace who embraces Hamas," said the source. "Advertising advancments in construction right now could change public opinion against us in a second."

At the outset of peace talks last summer, Israel was given the choice of freeing Palestinian prisoners who had committed acts of terror or freezing settlement construction. Economy Minister Naftali Bennett of the far-right Bayit Yehudi party reportedly scuppered any consideration of a freeze, choosing to free terrorists instead. Bennett later denied the claims.

Earlier this month, Finance Minister Yair Lapid told JTA that he would rather have a settlement freeze than free the prisoners. Israel reneged on its pledge to release the fourth and final tranche of prisoners, almost all of whom have been jailed for more than 20 years, causing Palestinian Mahmoud Abbas to go back on his pledge not to apply to join international bodies, among them the Geneva Conventions.