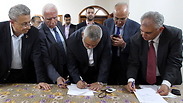 Palestinians signing reconciliation agreement
Photo: Reuters
Israel has received "a specific commitment from the American administration" that it supports Jerusalem's vehement opposition to peace talks with any Palestinian government that includes Hamas, the New York Times on Monday quoted an Israeli official as saying.

The official told the Times that the commitment had been given to Israel during US President Barack Obama's first term, and that it had been given once more following his re-election in 2012.

A senior State Department official refused comment to the Times, saying the administration was "not going to reveal the details of private conversations."

Related stories:

The US, which has expressed disappointment at Fatah and Hamas's announcement last week of reconciliation and the intention to form a unity government, said the new government would have to adhere to the same three principles as Palestinian Authority Mahmoud Abbas's current government: a commitment to non-violence, recognition of the State of Israel and acceptance of previous agreements and obligations between Israel and the Palestinians.

While Hamas is willing to accept a Palestinian state within the 1967 borders, it has vowed to never recognize Israel. Recognition, a Hamas official said, would be between two states.

"You don't need organizations to recognize Israel. It's enough that the Palestinian Liberation Organization – the representative of the Palestinian people – recognizes the State of Israel. Besides, (Israel) has yet to recognize the rights and borders of a Palestinian state," Hamas' deputy foreign minister Ghazi Hamad told Ynet on Sunday.

As for the condition to adhere to non-violence, Hamad said the decision on whether or not to continue the armed resistance against Israel has yet to be made.

"We will discuss this – among other issues – at the negotiations between Fatah and Hamas," Hamad noted.