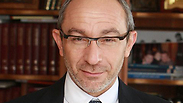 Kharkiv mayor Gennady Kernes
Afer being shot in the back by unidentified assailants, Jewish mayor of Kharkiv, Ukraine, Gennady Kernes, was flown to Israel late Monday night to receive medical treatment at Haifa's private hospital Elisha.

"We tested him upon his arrival and tests show that the surgeries (he underwent in Ukraine) were successful," said a representative from the Hospital.

A spokesperson from the Kharkiv Municipality said yesterday, "The mayor was injured by a bullet in his back. He was brought in for surgery and doctors are fighting to save his life."

Related stories:

"He is stable. That is all we can say right now," a hospital employee told Reuters. The Ukrainian embassy in Tel Aviv said it was not involved in Kernes's hospitalization in Israel, and that it may have been privately arranged and funded.

According to local media sources, Kernes was shot during his morning run. Other sources reported that he was shot by vandals while riding a bicycle or swimming in a spring.

Kharkiv's Chief Rabbi Moshe Moscowitz said that a doctor from Haifa arrived in Ukraine overnight to check Kernes' situation. According to Moscowitz, Kernes was flown to Israel at 3:00am with his wife at his side.

"The mayor is very connected to the community," said Moscowitz. "Jews in Ukraine fly to Israel for medical treatment because everyone knows that the hospitals and medicine in Israel can't even be compared to the quality level in Ukraine."

Rabbi Moscowitz expressed hope for Kernes under the care of Israeli medical services. According to Moscowitz, "His flight to Israel is an encouraging sign and we're hoping for good. As long as he's being treated in Israel, there is much more hope that he will recover."

Moscowitz added, "As far as I know this was a private, family move without any involvement of government offices or official bodies."

Speaking for the Jewish community in Kharkiv, Moscowitz said, "The community is in great shock. We're talking about a man who was very connected to the community."

"He's calming and supportive," said Moscowitz. "And also as far as the residents of Kharkiv are concerned, he is considered a very strong Mayor, who unites its residents, especially during times lacking in political calm between Russia and the Ukraine."

"In Kharkiv, there are those in favor of Russia, and against them are those in favor of the Ukraine and Kernes has enough power to unite the residents of Kharkiv," said Moscowitz.

"That's why everyone in the city is in shock. Even people who don't like him politically respect him for his ability to unite the residents in difficult times," said Moscowitz.

"Kharkiv isn't like Donetsk or Luhansk, it's a quite city and we worry here about the future of the city," said Moscowitz.

"They shot him in the back from the direction of the forest," said Kernes' friend Yuri Safronov to the Ukrainian publication 'Vesti' on Monday. "His wound is serious. His lung has been punctured. His liver is perforated everywhere."

Kernes was voted into office in March 2010 and was prominent as a supporter of pro-Russian Ukrainian President Viktor Yanukovych until he was dismissed in February. Kernes has since supported the new government in Kiev.