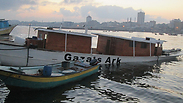 An explosive device planted on the side of the boat "Gaza's Ark," that belongs to the international Freedom Flotilla Coalition, exploded early Tuesday morning, causing it extensive damages and causing its stern to sink.

The boat's crew was preparing for a voyage from the Gaza Strip to Europe in an attempt to break the Israeli blockade of the Strip.

Flotilla activists told Ynet that at 4 am a guard who was on the boat received a phone call in which he was told he must leave the boat immediately because it was about to explode.

The guard disembarked, but went back on board the boat several minutes later after nothing had happened. A few minutes after that, the explosive device went on, bringing to the sinking of the boat's stern. The guard, who was on board the boat, was unharmed.

Freedom Flotilla Coalition Spokesman Dror Feiler said that an initial investigation done by the activists found the cause for the blast was likely an explosive device plated by a diver.

"The explosion was controlled and was meant to damage the boat but not to cause its complete destruction. Following the explosion, the boat's back end sunk," Feiler said.

Feiler did not hold anyone directly responsible for the explosion, but mentioned that in past years, other boats that were meant to sail to the Gaza Strip from European ports have also been sabotaged.

He also stated that the Israeli government has the biggest interest to ensure such a boat doesn't set sail from the Gaza port.

The flotilla's activists, however, directly accused Israel of being behind the explosion.

Israeli security sources have yet to comment on the story.

Feiler noted that the boat was due to set sail from the Gaza port in six weeks. "Whoever's behind the planting of the underwater explosive device did this now, weeks before the boat was to set sail, because they knew it wouldn't be wise to stop it a shot time before the voyage when the boat is under media attention," he said.

Mahfouz Kabariti, the Palestinian spokesperson for "Gaza's Ark" in Gaza, said that he and his men were considering their next move following what he called "a cowardly terror attack."

David Heap, a member of the Freedom Flotilla Coalition, said: "This explosion, or any other attack, will not stop our efforts to break the seige on Gaza, until we bring to its removal."