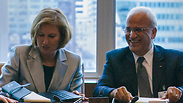 Erekat and Livni
Photo: Reuters
The chief Palestinian negotiator blamed Israel for the crisis in the US-led negotiations, as the agreed-upon deadline for the nine-months of talks passed Tuesday, and accused Prime Minister Benjamin Netanyahu of consolidating an apartheid regime.

Saeb Erekat, Palestinian President Mahmoud Abbas' chief delegate to the negotiations with Israel said, "We believe that the international community must clarify to Israel that it's choice of settlements and apartheid over peace will have political, legal, and financial ramifications."

The senior Palestinian official accused the Netanyahu administration of misrepresenting its position in the negotiations: "The Israeli government, which is essentially a coalition which represents the extreme sectors of Israeli society – mainly the settlers – has never prioritized peace as a strategic objective."

Related stories:

Erekat expressed cynicism of the current round of talks and of Israeli intentions during the period of negotiations: "Exactly nine months ago, the Palestine Liberation Organization, in light of the extraordinary efforts deployed by US Secretary of State John Kerry, decided to enter nine months of negotiations with the Israeli government, in order to reach a final status agreement.

"Exactly nine months ago President Abu Mazen announced a suspension of the program to join international organizations at the UN in return for the release of 104 Palestinian prisoners jailed in Israel, whose sentences predate the Oslo Accords. Yet, 30 prisoners are stilled incarcerated in Israeli jails."

Erekat laid the blame for the failure of talks directly on Israel: "Everything Israel did during the past nine months aimed at sabotaging Palestinian and international efforts to achieve the two-state solution."

"To build settlements in occupied land, kill Palestinians and demolish hundreds of Palestinian homes is certainly not the behaviour of a government that wants to end occupation but of a government that wants to turn occupation into annexation."

The Israeli government, however, disagreed with Erekat's argument regarding the talks' failure. Blaming Abbas for the negotiations' collapse, Prime Minister Benjamin Netanyahu said the Palestinian leader had to chose between peace with Israel or reconciliation with Hamas, which the Israeli and US governments view as a terrorist group.

Erekat dismissed that argument.

"If this Israeli government were sincerely interested in peace, it would have taken Palestinian national reconciliation as an opportunity for peace rather than an opportunity for a new blame game," he said.

Reuters contributed to this report.