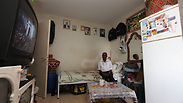 The absorption center in Mevasseret Zion
Photo: Gil Yohanan
A proposal published by the pension fund for the Jewish Agency for Israel's employees announced plans in recent weeks to sell the land on which an absorption center for Ethiopian immigrants is located, in Mevasseret Zion, a suburb of Jerusalem.

The move triggered anger among the hundreds of families residing in the center, who plan to protest the plan on Wednesday, while potential buyers will be touring the center's grounds.

Related stories:

The center, which houses some 1,300 people, is operated by the Jewish Agency, which rents the land from the Provident and Pension Fund. According to the immigrants who live in the center, neither organization informed them of negotiations to sell the land and did not tell them what their fate would be if the purchase goes through.

A call for offers published under the title "invitation to receive proposals for purchase of land rights", noted that the rental agreement ends at the end of the year, but according to lawyer Hagay Adoram, who represents the immigrants in the center, the structure itself was donated to the Jewish Agency in order to house new immigrants, while the land itself was sold to the Provident Fund in the 1990's.

"It should be checked whether the donors' approval was given to change the designation of their donation," read a letter Adoram sent to Immigration and Absorption Minister Sofa Landver and heads of the Jewish agency.

"We find it appropriate and urgent that we be notified in advance and in a timely manner prior the Fund's implementation of its intention to sell the Center to the highest bidder, to guarantee the rights of 400 immigrant families to have adequate and reasonable housing," Adoram added. "They cannot be discarded as if they were old furniture, these are human beings."

Yaakov Tadasa, who has been living in the center since 2008, said that he and his friends "heard by chance that they want to sell. No one talked to us or explained what will happen to us. I have nowhere to go, this is my only home. I don't understand how they want to throw us out into the street and no one is talking to us."

Another immigrant added that "people are very scared and no one is giving us answers. We're concerned that they will dump us in all kinds of places around the country without giving a proper solution."

A statement issued by the Jewish Agency said that "There are no plans to change the activity in the center in the coming months. In the event that future steps will be taken to change the existing pattern, the move will be carried out with the utmost sensitivity, while maintaining and adhering to the need ands rights of the immigrants."