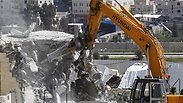 Illustration
Archive photo: Reuters
DIRAAT AL-RIFAIYYA – Except for the elementary school, all of the white stucco buildings in the Palestinian village of Diraat Al-Rifaiyya, in the southern Hebron hills, are illegal. Piles of rubble, with twisted metal stakes, bake in the unforgiving heat and mark those homes that Israel has demolished.

In one large house, Sheikh Mohammed Mahmoud Al-Adarra, the former mayor and current member of the city council says there are presently demolition orders issued against 100 of the 170 homes in this village of 1,100 residents, including Al-Adarra's own house where he lives with three wives and 16 children.

"We want Israel to stop the demolitions and give us the authority to grant permits to build," Al-Adarra, a burly man with a long black beard, told The Media Line. "They (Israel) hope that if they don't let us build, we'll leave and they can have all the land for the settlements."

Related stories:

Diraat, as it is called, is in Area C, the 60 percent of the West Bank that is under sole Israeli administrative and security control as prescribed in the 1993 Oslo Accords. Here, some 100,000 Palestinians live among 330,000 Israelis who reside in communities Israel built after acquiring the land in the 1967 war.

A spokesman for the Israeli Civil Administration, an arm of the Ministry of Defense which supervises planning in the Israeli-controlled areas of the West Bank (Area C), said that in the past year, 373 demolitions have been carried out from a total of 1,288 illegal Palestinian construction sites. At the same time, he said 147 out of 358 illegal structures in Jewish communities had been demolished.

Israeli activists, though, argue that most of the Jewish-owned structures that were listed as having been demolished were in fact mobile homes placed without government authorization in an attempt to start a new Jewish community. In Diraat, local officials say it's impossible to get a permit.

"Most of us have given up on getting permits," Al-Adarra said. "It costs a lot of money to even apply and then they say no anyway. So we just build and hope that the homes won't get demolished."

Unlike most of the Jewish communities here, Diraat and other Palestinian villages have no master plans. Without a master plan, it is impossible for the village to build. This week Diraat, backed by several Israeli non-governmental organizations (NGOs) appealed to the Israeli Supreme Court, asking for planning authority in Area C.

"There is discriminatory planning in which Palestinians have no influence over where they can build legally and where they can't," Rabbi Arik Ascherman of Rabbis for Human Rights, one of the petitioning organizations, argued. "House demolitions don't just destroy buildings – they destroy families. We see marital tensions, students with straight "A's" whose grades plummet, children who wet their beds, who no longer trust their parents. It has nothing to do with security or law and order, it's all about administration. Palestinians have no fair chance to build legally."

The court ruled that Palestinians should have more say in planning in their villages, but said that larger diplomatic issues have also come into play. Earlier this week, the coordinator for government activities in the territories, Maj-Gen. Yoav Mordechai, announced that the government had frozen pending authorizations for master plans for 19 villages. He said the step was taken in retaliation for the Palestinian Authority's decision to seek membership in United Nations agencies and conventions, a move Israel has opposed as unilateral action.

In effect, all Palestinian building in the West Bank has been halted. At the same time, the dovish Peace Now movement, which opposes Jewish construction in the West Bank, said that Israel approved almost 5,000 new homes during the past nine months, almost half of them in Area C, and the other half in east Jerusalem.

Israeli officials say they are trying to improve life for Palestinians in Area C.

"In the past years, the Civil Administration has advanced different outline Palestinian projects, part of them with the cooperation of the Palestinian Authority and part with the Civil Administration's initiative," Major Guy Inbar, Civil Administration spokesman told The Media Line.

"Besides this, the Civil Administration has advanced several master plans for the Palestinian population, but their execution was stopped because of the Palestinian appeals to the UN organizations."

Article written by Linda Gradstein.

Reprinted with permission from The Media Line.