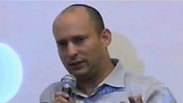 Bennett at Tel Aviv University
Photo: Yogev Atias
As the nine-months of the current US-led round of negotiations between Israel and the Palestinians ended Tuesday, officials from both parties cast the blame on the other. Economy Minister Naftali Bennett joined the chorus, saying that the "Oslo era is over."

Bennett was referring to the twenty years of negotiations between the Israelis and Palestinians which began with the signing of the Oslo Accords in 1993.

Bennett expressed deep pessimism regarding the peace process: "We are entering a more realistic period. There is no perfect solution (for the conflict) and the pursuit of perfection brings us to disaster. We need to learn to live with the situation and not sink into depression."

Despite the failure of the peace talks, the IDF and Palestinian security services continue to cooperate. Along those lines, Minister Bennett, addressing a Business Club meeting at Tel Aviv University, said: "(Israel) must strengthen Palestinian autonomy, because I have no desire to rule them. Let them do as they please. Even better – grant them complete freedom of movement. That's my relief plan.

Related stories:

"On the other hand, I think we must extend Israeli law to the Israeli territories in Judea and Samaria. And we must offer Israeli citizenship to the 70,000 Palestinian residents of these territories."

On a day when the future of the negotiations between Israel and the Palestinians, the Bayit Yehudi chairman offered a sobering, pragmatic message, "We need to narrow the gap between the two parties. We are not the only place in the world with a protracted conflict. Every day that passes without war is a blessed day."
'Israel not apartheid state'
Bennett was asked about US Secretary of State John Kerry's Monday comments, in which the American diplomat said ending the peace process could lead Israel down the road to apartheid. He answered: "I am glad he apologized for the statements. Israeli is the only country in the region which is not an apartheid state. In Judea and Samaria they have everything."

US Secretary of State John Kerry had said Monday that he had chosen the wrong word when describing Israel's potential future as an "apartheid state" if it didn't reach a peace deal with the Palestinians.

Earlier in the day, Saeb Erekat, Palestinian President Mahmoud Abbas' chief delegate to the negotiations with Israel also addressed the end of the agreed-upon timeframe, saying, "We believe that the international community must clarify to Israel that it's choice of settlements and apartheid over peace will have political, legal, and financial ramifications."

The senior Palestinian official accused the Netanyahu administration of misrepresenting its position in the negotiations: "The Israeli government, which is essentially a coalition which represents the extreme sectors of Israeli society – mainly the settlers – has never prioritized peace as a strategic objective."