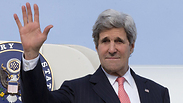 Strategic patience. Kerry.
Photo: AFP
US Secretary of State John Kerry has not given up on peace talks just yet and intends to continue his peace push after a pause of several months, his aides said.

On of the secretary of state's aides predicted that after an initial domestic political boost, the two sides would be forced back to the table by the long-term need for a two-state solution.

"It's a matter of time before they all come back," the aide predicted, "and want to have negotiations."

Related stories:

But unilateral steps taken by both sides may make it more difficult to return to the negotiating table.

While Prime Minister Netanyahu is reportedly postponing advancing plans for more settlement construction - as a strategic move to prevent international public opinion of skewing in the Palestinians' direction - the Israeli government has decided to impose a series of sanctions on the Palestinians.

The Palestinians, meanwhile, have signed a reconciliation agreement with Hamas that stipulates the formation of a unity government, and prepare their applications to additional international bodies, conventions and treaties.

Netanyahu has made it clear Israel would never negotiate with a government that backs Hamas - a terrorist organization calling for the destruction of Israel.

Kerry, for his part, left Washington on Tuesday night for a week-long trip to Africa. An aide said he was showing "strategic patience" when it comes to the Middle East and "very serene and sanguine about it all."