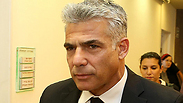 Angered by lack of transparency. Lapid.
Photo: Amit Shabi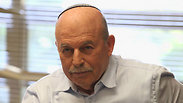 Lapid's decision is a 'disgrace'. Slomiansky.
Photo: Gil Yohanan
A new confrontation broke out in the coalition between Finance Minister Yair Lapid and Economy Minister Naftali Bennett: sources close to the Bayit Yehudi leader are blaming Lapid of halting money transfer to settlements as a punishment to the regional-national party.

The confrontation in the coalition broke out when Lapid claimed that Bennett and his party are trying to torpedo Health Minister Yael German's surrogacy bill that regularizes surrogacy in Israel and standardizes surrogacy for queer couples.

In addition, sources close to Lapid claim that he was angered by the "lack of transparency" on funds transferred by the government to the settlements - and this is why he decided to stop the money transfer until the matter is resolved.

Related stories:

The crisis between Bennett and Lapid started Tuesday during a meeting of the Knesset's Finance Committee when committee chair MK Nissan Slomiansky (Bayit Yehudi) discovered that the Finance Ministry decided to cancel a meeting on the transfer of NIS 40 million to the Housing and Construction Ministry.

Sources close to Lapid have accused Housing and Construction Minister Uri Ariel (Bayit Yehudi) of acting as "the Minister of Settlements" and hiding data about the extent of the investment in settlements.

Finance Committee member MK Boaz Toporovsky (Yesh Atid) said his party has decided to stop money transfer to the West Bank "for as long as there are unresolved political disagreements."

Slomiansky then slammed the finance minister, calling his decision a "disgrace."

Sources in the Housing and Construction Ministry denied Yesh Atid's claims, saying that "the Finance Ministry is the one that initiated and signed the budget transfer for the Housing and Construction Ministry and we therefore don't understand the issue Lapid said."