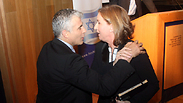 Not quitting the coalition together. Lapid and Livni.
Photo: Motti Kimchi
Finance Minister Yair Lapid said Tuesday that even if Justice Minister Tzipi Livni's Hatnua party quits the coalition over the failure of peace talks with the Palestinians, his party, Yesh Atid, does not intend to follow suit.

In private meetings Lapid had with Hatnua party officials, he said his party does not intend to quit the government and automatically join the opposition's ranks.

"If you decide to quit, don't think we're quitting with you," Lapid told Hatnua officials.

Related stories:

Lapid's announcement means that even if Livni does decide to quit the coalition (a move that is currently not up for discussion), she won't bring to the collapse of Prime Minister Benjamin Netanyahu's government and to elections.

In such a case, sources close to Livni said, she is better off staying in the government and working to stop extremist decisions on settlement construction, as she has done in the recent cabinet meeting.

In light of all of that, and since Livni is in no rush to leave the government, the estimates are that the failure of peace talks will not shake the Israeli political system.

Palestinian Authority President Mahdmoud Abbas and the Palestinians are viewed in Israel as the main culprits to the failure of negotiations after the PLO's reconciliation with Hamas and the PA joining UN treaties and conventions.

Under these circumstances, Lapid and Livni can't "throw the blame" on Netanyahu and leave his government.

Yedioth Ahronot learned that in recent days, Livni and Lapid have been exchanging messages in an attempt to formulate a united response to the failure of peace talks.