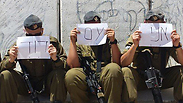 'We're with David the Nahalite'
An IDF soldier removed from his post in the combat Nahal brigade has won massive support online through a Facebook campaign calling for him to be reinstated that has garnered more than 69,000 likes.

The soldier was removed from his combat position in the brigade, apparently after he was documented cocking his weapon and aiming it at a Palestinian teenager in Hebron earlier this week, The IDF, however, says that he was removed before the incident.

The soldier himself said in a Fcebook post that his suspension from duty had not connecting to Sunday's incident.

His post said that two prior incidents of violence led to his court marshal. He thanked the thousands of soldiers and civilians who supported him online and expressed amazement at how far his story had resonated.

But the soldier was court-martialed by his battalion commander for two previous violent incidents and not the events in Hebron. On both prior occasions, he attacked soldiers from his brigade and in one case threw a stone at his platoon commander. He was sentenced to 20 days in jail and removed from his combat position as a result.

According to the soldier, his court martial and sentencing had no connection to the incedent in Hebron.

An IDF investigation of the incident in Hebron found that the soldier had carried out a security check on three Palestinians near Beit Hadassah, in the heart of the Jewish section of Hebron. At a certain point during the check, one of the Palestinians pulled out a set of brass knuckles.

Related stories:

The soldier, who was alone at his post, said felt threatened, which led him to cock his weapon in a exaggerated manner, in line with military orders.

His commanders backed him up, but noted that his swearing and threats that came after he cocked his weapon were inappropriate behavior for an IDF combat soldier.
'I'm with the Nahalite'
The incident garnered attention online following to a Facebook petition posted by civilians that was signed by hundreds of people expressing support for the soldier.

"The IDF's soldiers are tired of being abandoned at the hands of enemy', and being played like chess pieces," the petition said.

Supporter Moshe Shapira wrote: "He didn't pull the trigger... all he did was carry out an act of deterrence, did as he was required to do, and then the very same commanders who instructed him to act in this way are abandoning him for political reasons, for PR."

Another supporter, Gil Cohen, wrote: "Every parent who has a son in the Nahal brigade needs to call the brigade commander's office right now, and demand that their son is removed from the brigade immediately and reassigned to a different brigade that has values, back-up, and commanders who are true Zionists, Israeli, and patriots."

An IDF soldier uploaded a photo to the Facebook page in which soldiers looking towards the camera and a prison guard with his back to the camera. The soldiers are all hiding their faces with paper signs that say: "Border Police and the IDF are with David!", "I'm with David too!" and "Today David, tomorrow you."




Shani Sasson uploaded a picture of a framed photo of an army dog tag and a gun with a sign reading, "I've been to Hebron, I was wounded in Hebron, wounded soldiers are also with David the Nahalite," using a common nickname for soldier serving in the Nahal brigade.

Another photo shows Chief of Staff Benny Gantz aiming a gun and allegedly saying: "I would've cocked my weapon too."

The IDF stressed no Palestinians were wounded in the incident, and that soldiers who feel their life is being threatened are expected to cock their weapon as an act of deterrence.

Army officials also mentioned that the images taken by the Palestinians during the incident clearly show one of the Palestinians next to the soldier was indeed wearing brass knuckles.