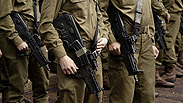 Illustration
צילום: דובר צה"ל
The Israeli security forces said Wednesday that the Shin Bet and IDF have broken up a Palestinian terrorist cell linked to Hamas in the West Bank city of Qalqilyah. The cell was planning attacks on Israeli targets, the security forces said.
According to a statement from the Shin Bet security services, the seven members of the cell were detained between December 2013 and March 2014. The group was allegedly manufacturing improvised explosives, as well as planning bombings and shooting attacks.
The cell members were all Palestinians from Qalqilyah, save for one Israeli Arab who lived in the West Bank city, the Shin Bet said.
Related stories:
According to the statement, a Shin Bet investigation revealed that one of the suspects had set up the cell with the intention of carrying out attacks on Israeli targets, in particular shootings and bombings.
The cell focused on developing makeshift explosives using agricultural fertilizer, the Shin Bet said, as well as carrying out trial runs using the explosives they had managed to make and seeking to obtain guns that originated in Israel.
The organization also said that Khaled Daoud, the sole member of the cell with Israeli citizenship, was to make good use of his freedom of movement within Israel to obtain raw materials for explosives and acquire weapons.
The Shin Bet investigation into the cell also apparently revealed that the cell members appealed to prominent Hamas activist in Qalqilyah Salah Daoud for funding to continue their activities. Daoud apparently agreed, and even offered to help recruit more member for the cell.
The seven detainees will appear in court in the coming days, the security forces said.