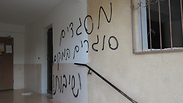 Defiled mosque
Photo: Hassan Shaalan
Prime Minister Benjamin Netanyahu met with Arab, Druze, Bedouin and Circassians members of his Likud party Wednesday and promised to address the issue of price tag attacks. He made the comments in wake of the latest such incident at the Arab town of Fureidis late Monday night.

"This is unsettling," Netanyahu said of the attack, adding they contradict "our essence and all of our values. He further said that "we will use the Shin Bet to capture those responsible," claiming he has expanded security forces ability to deal with such attacks.

Finance Minister Yair Lapid also spent Wednesday visiting Fureidis, and traveled to a mosque in the town that was marked with anti-Arab graffiti Tuesday with the words, 'Close mosques, not yeshivot'.

Some 20 vehicles in the town also had their tires slashed by the vandals and educational institutions and businesses in Fureidis went on strike Wednesday to protest the defacing of the mosque.

"This is a place of worship," said Lapid at the mosque. "People come to pray here. Someone who defaces another person's place of worship has no respect for his own God. What was written on the wall of this mosque is a complete absurdity from people who are looking for a reason to be violent and crazy and there is no justification in this act."

"We're talking about a gang of cowardly criminals who come at night and perform actions of delinquents and vandals. They aren't patriots or Zionists, they are only criminals."

Lapid also said that in a conversation with Internal Security Minister Yitzhak Aharonovich, he was told that police were already investigating initial leads.

However, additional police sources said just the opposite noting that they had no knowledge of any progress or potential leads in the case.

"We're dealing with this gang as we do with terror. The police are treating the situation with maximum seriousness and the understanding that these are criminals who need to be dealt with. The government of Israel is taking this matter very seriously," said Lapid.

When asked if compensation would be provided to those who suffered property damage in the vandalism, Lapid said, "I don't want to get into the subject of compensation for the damages they suffered."

Related Stories

A new American report on terrorism strongly criticized Israel for its lackluster response to attacks by extremist settlers against the Palestinian population and their property.

"Attacks by extremist Israeli settlers against Palestinian residents, property, and places of worship in the West Bank continued and were largely unprosecuted according to UN and NGO sources," said the State Department's annual Country Report on Terrorism.

Justice Minister Tzipi Livni responded to the report Wednesday saying, "Hate crimes that have rode into Israel from Yitzhar destroys us from within and disfigures our impression on the outside world."

Knesset member and Chairman of the United Arab List - Ta'al party, Ahmed Tibi called on Welfare Minister Meir Cohen to allot funds for compensation as soon as possible.

Tibi also announced that he plans on submitting an amendment to compensation laws and while it was unclear what his amendment included, he said that, "If the government won't support my submission then it will be proven that it indirectly encourages these crimes."

Lapid was also asked if the price tag vandalisms could be labeled as acts of terror to which he responded, "In Israel there are those who need to be dealt with like we deal with all criminals."

"This is very severe, indecent, and shameful for Israel but we will deal with the issue," said Lapid. "I came to support the mayor and tell him that the State of Israel supports any condemnation of this ugly thing that these thugs have done."

Opposition leader Isaac Herzog also visited the site on Wednesday morning and readily labeled all price tag incidents as acts of terror.

"In recent years, there were hundreds of hate crimes and while I know the police and the Shin Bet and other security forces are doing everything they can, they need to be given similar tools to those used in the fight against terror. This is terror," said Herzog.

Residents of Fureidis also took to the streets Tuesday in a protest of 2,500 people.

"I accuse the police of negligence by releasing the criminals and the perpetrators of 'price tag' attacks. The responsibility for the rise in these attacks is on the police and the government," said Sami Ali, chairman of the Arab National Committee in the neighboring town of Jisr az-Zarqa.

"They are not doing enough to eradicate this problem and crime, which brought to the growth of terror gangs against Arabs."