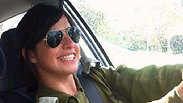 Six people will be tried for the death of Second Lt. Hila Bezaleli, who was killed two years when heavy lighting fixture collapsed on a stage set on Mount Herzl during rehearsals for Israel's Independence Day ceremony. Seven soldiers were injured in the incident.

The six will face charges of negligent manslaughter and other negligence related offences.

Related stories:

In wake of the announcement, Bezaleli's mother, Sigalit, spoke to Ynet, and expressed criticism at both the timing of the announcement – days before Israel's Independence Day celebrations – and at the fact that additional people involved in the accident would not face justice.



Scene of incident (Photo: Channel 2)
"I don't understand why they had to wait two years and then file a suit against only some of the suspects. I want everyone involved to be charged. Only then will I and my daughter, wherever she is now, be able to rest."
She further noted that: "I understand that they have yet to decide whether to prosecute head of the Hasbara Ministry, Hannah Cohen, and the event's organizer, Alex Sella," naming those she wished to see prosecuted.

The six are Elad Lavi, Doron Lavi, Tiamoroz (Tomer) Leonizda, the Itzuv Bama (Stage Design) company, Yizhak Zuker and Aharon Varshevski.

A statement from the Justice Ministry attempted to clarify their decision to prosecute the six men, and detailed their involvement: "At the relevant time of the event, the suspects held the following roles: (Stage Design) company was responsible for setting up the lighting fixture, according to an agreement with the Hasbara Ministry; Doron and Elad Lavi where the company's owners and served as its director general and deputy director general for operations, respectively, Tiamoroz Leonizda was the operating manager for the company, and Aharon Vershevski was the structure's chief engineer and Yithzak Zuker was in charge of safety at the event."

Bezaleli served as a Medical Corps officer at the Jordan Valley Brigade. It has been said she played a central role in saving human lives in various incidents.

An initial investigation revealed that a cable connecting the lighting fixtures was torn apart and as a result, the fixtures collapsed and dragged a concrete cube that weighs a few tons.

Omri Efraim contributed to this report