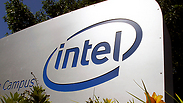 American technology giant Intel announced its intentions on Wednesday to invest six billion dollars in upgrading its plant in Kiryat Gat where the company plans to add 1,000 employees to its workforce.

Representatives from Intel informed Finance Minister Yair Lapid and Economy Minister Naftali Bennett of the plans. Israel in turn agreed to cover 5-10 percent of the costs of renovation, amounting to anywhere from 300 to 600 million dollars.

Intel didn't confirm the statements made by the Israeli government, which put the full cost of the project at six billion dollars. The final business plan is set to be delivered to the ministers on Thursday.

Related Stories

The company has spent the last two years examining which of their factories should be upgraded with the latest and most advanced technologies. Its choice of renovation in Israel means that it sees its future of production in Israel which could lead to additional factories.

According to Israeli sources, if Intel had chosen to invest in a country other than Israel, the Israel factory would likely be closed in the near future due to ageing facilities and all the jobs it currently holds would be lost.

"This is excellent news for Israel and an excellent gift for its 66th birthday," Bennett told Ynet. "This is one of the biggest investments that have ever been made in Israel and the significance for the periphery and technological education is tremendous."

Bennett, who lead negotiations on the deal with Intel said: "There are also demands for industrial cooperation. I also want to take this opportunity to thank Yair Lapid who took this journey with me."

Lapid also welcomed the successful conclusion of negotiations, saying: "We will continue to promote investments in advanced industries in Israel. This is a vote of confidence for the Israeli economy."

"These investments will directly create an additional 1,000, and tens of thousands of jobs indirectly, all for the Israeli middle class," said Lapid.

Prime Minister Benjamin Netanyahu welcomed the investment and said, "the plans for this investment are the result of a process that we've been working on for a few years already. Israel is a world center of technology and investing in it yields profits both for the investors and for the citizens of Israel.

"I call on additional international companies to expand their investment in Israel, and for those who still haven't taken advantage of the benefits of the Israeli market to come and invest here," said the Prime Minister.

Director of Intel in Israel and Vice President of Intel Maxine Fassberg, said, "Over the last 40 years, Intel's exports added up to 35 billion dollars and most of that came from Intel's production factories in Kiryat Gat."

"During 2013, Intel's factory in Kiryat Gat won Intel's prize for prestigious quality, the Intel Quality Award (IQA)... Intel is committed to continuing the sequence of achievements in qualitative results of operations in Kiryat Gat," said Fassberg.

The Fab28 Intel factory in Kiryat Gat produces 22 nanometer technology chips and the company is interested in beginning to produce the more advance 10 nanometer chips in Israel.

Intel's first factory in Israel was built in 1996 at the cost of 1.7 billion dollars of which the government paid 680 million or 40 percent of the cost. The second Intel factory built in 2011 came at a cost of 2.7 billion and the government paid 200 million or seven percent of the investment.