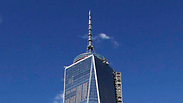 New York's One World Trade Center
Photo: AP
Dovish pro-Israel lobby J Street was on Wednesday denied admission to a major umbrella group of American Jewish organizations, despite significant support from traditional institutions.
The organization was disappointed by the decision and said it was a "sad day for us, but also for the American Jewish community and for a venerable institution that has chosen to bar the door to the communal tent to an organization that represents a substantial segment of Jewish opinion on Israel.
Despite the support of several venerable American Jewish organizations, including the Union for Reform Judaism, the Jewish Council for Public Affairs, and the Anti-Defamation League, the motion failed to receive the two-thirds majority required for admission into the 51-member umbrella group.
Related stories:
J Street said that it applied to the Conference of Presidents because it values "Jewish community and the concept of a broad tent of pro-Israel organizations that truly represents our community's diversity and dynamism" but that its "bid was thwarted by organizations on the right of the community who do not share those same values."
At the secret-ballot vote in the umbrella group's New York offices, 22 organizations voted against J Street's inclusion and three abstained, leaving the "pro-Israel, pro-Peace" lobby with only half of the votes it needed.
The right-wing Zionist Organization of American lobbied heavily against J Street's admission, citing the dovish group's association with BDS supporters and its previous statements on Israeli positions.
J Street denied that the vote spelled a rejection of the group by American Jewry: "When an organization like ours is kept out of the American Jewish community's official Israel umbrella organization, despite broad support, we should all be asking ourselves some hard questions.
"In many ways the vote illustrates one of the key reasons that J Street was created in the first place and why we continue to grow: a large segment of the American Jewish community feels that it does not have a home or a voice within its traditional structures."
The executive vice president of the Conservative movement's Rabbinical Assembly, Rabbi Julie Schonfeld, claimed J Street "won the popular vote" and that the group would not have been denied entry if the Conference of Presidents voting process accounted for the size of an organization, according to a report in the New York-based magazine Jewish Daily Forward.
J Street was founded six years ago as a liberal counterpart to the traditional pro-Israel lobby in America, AIPAC. The group, which has spawned many college chapters, chose to focus on the gains it has made: "After only six years, we have the third largest annual gathering of any American Jewish organization, over 800 rabbis have joined our Rabbinic Cabinet, and we have chapters in 40 cities and states."