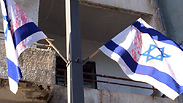 Defaced flags in Jaffa
Photo: Tel Aviv District Police
Red paint was sprayed Thursday morning on dozens of Israeli flags that had been hung on a street in Jaffa. Local police have begun an investigation, but have not yet made any arrests.
Residents of the area noticed the vandalized flags on Thursday morning on streets around the central Jerusalem Boulevard. The residents called the police, who began an investigation. It is unclear at this stage who vandalized the flags, which had been hung by Tel Aviv-Jaffa Municipality.
Police have yet to identify any suspects and have no leads as to who was responsible for the acts of vandalism.
There have been a series of "price tag" attacks in recent weeks, primarily in northern Israel, which has a high concentration of the country's Arab population.
The attacks, which have become more frequent, are carried out by far-right extremists opposed to any peace deal with the Palestinians or removal of illegal settlement outposts.
Most recently, vandals in the northern Arab town of Fureidis painted a Star of David and wrote "Close mosques, not yeshivot" on the walls of a mosque and slashed the tires of dozens of cars.
Last month, extremist West Bank settlers attacked an IDF post used by reservists at the settlement of Yitzhar.
Israel's establishment has come out strongly against the attacks, branding them a form of terrorism. On Wednesday, Prime Minister Benjamin Netanyahu vowed that the Shin Bet domestic security service would be dispatched to apprehend the attackers.