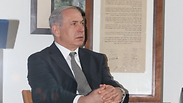 Netanyahu at Independence Hall
Photo: Motti Kimchi
Four days ahead of Israel's 66th Independence Day, Prime Minister Benjamin Netanyahu said Thursday that he plans to promote legislation that will enshrine the country's status as the nation-state of the Jewish people.

"It is my intention to submit a basic law to the Knesset that would provide a constitutional anchor for Israel's status as the national state of the Jewish people," Netanyahu said at the Tel Aviv site where Israel's Declaration of Independence was signed on May 14, 1948.

The issue of Israel's status as a Jewish state figured prominently in the peace talks between Israelis and Palestinians that recently broke down. Netanyahu demands that Palestinians recognize Israel as the Jewish homeland to prove they are willing to coexist peacefully with such a state.

Related stories:

Netanyahu stressed the legislation was necessary.

"The Declaration of Independence sets, as the cornerstone in the life of the state, the national Jewish identity of the state of Israel," he said. "To my great regret, as we have seen recently, there are those who do not recognize this natural right. They seek to undermine the historic, moral and legal justification for the existence of the state of Israel as the national state of our people."

In lieu of a formal constitution, a series of Basic Laws adopted by parliament since Israel's founding define governmental, legislative and judicial powers, protect civil rights and codify Jerusalem's internationally disputed status as the country's capital.

A new Basic Law declaring Israel a Jewish state would largely be symbolic, an Israeli official said. "It is declaration to show that this is part of our national ethos."

"I believe that the most basic component in our life as a nation will receive constitutional status similar to the other main components that are the foundation of our state, as determined in the basic laws," Netanyahu said.

Israel's Basic Law declaring Jerusalem, including the eastern sector captured in a 1967 war, its "eternal and indivisible capital" does not carry any punitive measures against those who oppose that declared status.

Palestinians still fear this label would lead to discrimination against Israel's sizeable Arab minority, which makes up a fifth of its population, and negate any right of return of Palestinian refugees from wars since 1948 to what is now Israel.

But Netanyahu assured that while he intends to cement Israel's status as a "Jewish state" in legislation, it will not harm the country's non-Jewish citizens.

"The State of Israel will always preserve the full equality, in personal and civil rights, of all its citizens, Jewish and non-Jewish alike, in a Jewish and democratic country. And indeed, in Israel, individual and civil rights are assured for everyone, which sets us apart in the large expanse of the Middle East and even beyond."

The "Jewish State" matter emerged as one of the major gaps between the sides in recent talks. Netanyahu has made it his central demand of Palestinians. But Palestinian Authority President Mahmoud Abbas says such an endorsement would undermine the rights of Palestinian refugees and Israel's own Arab minority.

"It is strange for me is that it is those who call on Israel to make concessions in Judea and Samaria because of their obvious wishes to avoid a bi-national state, that are the very same people who object to recognize Israel as the national state of the Jewish people, while at the same time can support the idea of a Palestinian national state," Netanyahu said.

The US-brokered talks broke down last month after Israel didn't release a fourth batch of promised Palestinian prisoners and refused to freeze settlement building on land Palestinians want for a future state. Abbas then sought recognition for "a state of Palestine" in 15 international treaties, breaking a previous commitment, and signed a reconciliation deal with Hamas, a terror organization calling for the destruction of Israel.
'Netanyahu's gone too far'
Mohammad Barakeh, an Arab lawmaker from the left-wing Hadash party, said legislation declaring a Jewish state would be racist in nature. "The truth is, I was surprised by his intention to bring this as a Basic Law," Barakeh told Reuters by telephone.
"I have been following Netanyahu's actions in the peace talks. I know he doesn't want peace and wants to put a spanner in the works. But he's gone too far with this."
Coalition member, Justice Minister Tzipi Livni, also opposes Netanyahu's initiative.
"I will continue protecting Israel's values as a Jewish and democratic state and in no way will we allow (anyone) to weaken the democratic values and surrender them to the Jewish ones - this is the very essence of the Declaration of Independence and this is the basis of our existence," she wrote on her Facebook page.
"To that end, and in line with the prime minister and coalition's views, I've appointed Prof. Ruth Gavison several months ago to closely examine the issue and to accordingly write a bill proposal that will maintain the vital balance of Israel as a Jewish and democratic state," she added.
The building on Rotchild street was built in 1909 and served as the home of Tel Aviv's first mayor, Meir Dizengoff. In the 1030s, it turned into a museum and won its glory on that fateful Friday afternoon in May 1948, when the Jewish people's council convened in it to declare Israel's independence.
The Associated Press, Reuters and Gilad Morag contributed to this report.