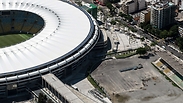 A World Cup stadium in Brazil
Blue-and-white security companies prove once again they are not only at the forefront of security technology, but are also in international demand.

Israel's Risco Group, a company leading in global security solutions, announced Thursday that it has completed the implementation of a command and control system for one of the 12 World Cup stadiums, the Arena Patanal, in Cuiabá, Brazil. The stadium, which will seat 44,000 fans, will be protected by the Israeli company's advanced security systems, Globes reported.

Operators of the system will be able to control many safety and security features simultaneously as well as other systems, such as the PA system, access to protected areas, gates, press boxes, locker rooms and lighting. FIFA has approved and tested the Israeli gateway control system for the stadium's entrances, which allows for hundreds of gates, doors and turnstiles to be controlled.

Related stories:

According to the Globes report, Risco's Cuiabá stadium deal is worth $2 million, as stated by sources in the security sector. Operating for the past three decades, more than 95 percent of the Israeli company's production is for export, with its market primarily in Europe. The company, which has 13 branches worldwide, employs 700 people, with most in Israel.

"We can definitely say we are ready," Risco EVP Hemy Fintsy told Globes. "During the matches, the stadium's operations team will work the systems by themselves, and there will be no need for our crews to be on site."

Elbit systems is another Israeli company that is securing the FIFA World Cup. The company is providing Hermes 900 unmanned aerial vehicle (UAV) to carry out safety and security missions for the Brazilian Air Force such as crowd surveillance.

An estimated half a million soccer fans from across the globe will attend the 2014 World Cup games, the world's largest soccer event this coming June. The Brazilian government is spending close to $1 billion on security measures to prevent threats of terrorism and violence.

Reprinted with permission from the Tazpit News Agency.