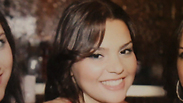 Shelly Dadon the 20-year-old murder victim
Photo: Elad Gershgoren
The body of 20-year-old Shelly Dadon was found at a parking lot near Migdal HaEmek on Thursday exhibiting signs of violence. The police is investigating the possibility of nationalistic motives, but hasn't ruled out other leads.
Policemen from the Migdal HaEmek station, who were conducting a routine patrol in the Ramat Gavriel industrial area, noticed the young woman's body lying on the asphalt of an empty parking lot. They then called the northern district forensic team and senior investigators to the scene. At the same time, dozens of policemen started searching the area for suspects.
Related stories:
Northern command police chief Moshe Cohen said that "at 3:10 pm, a Migdal HaEmek police patrol car noticed Dadon's body. A short time earlier, the Afula police station received a missing person report of a young woman. We asked for a photo and used it to identify the victim."
"We learned that she left her house in Afula to get to Migdal HaEmek to meet someone for a job interview in one of the factories. The body was discovered with signs of violence," Cohen added.
Dadon's mother, who arrived at the Migdal HaEmek police station, cried in pain "my love, my beautiful girl why did you have to go? What have they done to you?" Her father, who waited at the crime scene, cried "please don't take her away from me."
Maor Buchnic contributed to this report