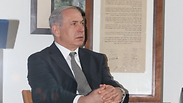 Netanyahu at Independence Hall, announcing intention to propose Basic Law
Photo: Motti Kimchi
After a political storm erupted over Prime Minister Benjamin Netanyahu's announcement Thursday of plans to promote legislation that will enshrine the country's status as the nation-state of the Jewish people, Arab citizens of Israel also expressed their indignation against the prime minister's intentions.

"This country is not only for Jews, but for all its citizens," actor Mohammad Bakri said. "The Jewish State was established only in 1948 and was a minority in a Palestinian state. They have no right to occupy the lands and expel Arab citizens. Such a racist decision should not be agreed to."

Arab-Israeli former soccer player Abbas Suan, who played for Bnei Sakhnin FC and the Israeli national soccer team, and today serves as the manager of Bnei Sakhnin's youth team, expressed his concern that implementing the legislation would damage coexistence efforts between Jews and Arabs.

Related stories:

"This kind of law hurts the Arab population and does injustice to us. No one would agree to such a proposal. I call on Netanyahu and any other person involved in politics to deal with more important things, such as how to live in peace, strengthen coexistence and not discuss racist laws simply to please the extreme-right."

Netanyahu should deal with more important things. Abbas Suan (Photo: Oren Aharoni)

Suan added that Netanyahu's announcement would not work to discourage the Arabs in Israel. "We'll not give up on our lands and homes, and will stay strong. Such laws only cause racism to spread."

MK Ahmad Tibi also responded strongly to the suggestion raised by the prime minister. "Mr. Netanyahu is neurotically haunted by his intention to minimize the country's democratic breathing room and highlight the Jewish aspect, while embarrassingly distorting history.

"No Basic Law of the Knesset or elsewhere will cancel the fact that this country is our national home , in which we were born and in which we survived after the Nakba, and in which we live in a constant struggle to be (treated as) equal citizens, without success.

'This country is our national home'. MK Ahmad Tibi (Photo: Ofer Amram)

Commenting on the Israeli demand that the Palestinians recognize Israel as a Jewish state, Tibi added: "Only a national movement that is unsure of its righteousness makes demands every other day to recognize the country's Jewish nature, against the historical and national narrative of a different, Arab Palestinian, collective, that wishes to live together on the basis of civil and national equality."

The 'Jewish State' emerged as one of the major issues between Israel and the Paelstinians in recent peace talks. Netanyahu made it his central demand from the Palestinians, but Palestinian Authority President Mahmoud Abbas claimed such an endorsement would undermine the rights of Palestinian refugees and Israel's own Arab minority.

"It is strange for me is that it is those who call on Israel to make concessions in Judea and Samaria because of their obvious wishes to avoid a bi-national state, are the very same people who object to recognize Israel as the national state of the Jewish people, while at the same time can support the idea of a Palestinian national state," Netanyahu said.

Harsh criticism of Netanyahu's desire to push this legislation came from the coalition as well. Justice Minister Tzipi Livni already stated she will oppose Netanyahu's initiative.

"I will continue protecting Israel's values as a Jewish and democratic state and in no way will we allow (anyone) to weaken the democratic values and surrender them to the Jewish ones - this is the very essence of the Declaration of Independence and this is the basis of our existence," she wrote on her Facebook page.

"To that end, and in line with the prime minister and coalition's views, I've appointed Prof. Ruth Gavison several months ago to closely examine the issue and to write an appropriate bill proposal that will maintain the vital balance of Israel as a Jewish and democratic state," she added.

Aviel Magnezi, Gilad Morag and news agencies contributed to this report.