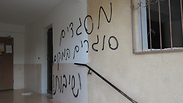 Defiled mosque in Fureidis
Photo: Hassan Shaalan
WASHINGTON – The Conference of Presidents of Major American Jewish Organizations sent an unequivocal message Friday evening to Israeli law enforcement agencies, urging them to allocate all resources necessary to uproot the phenomena of 'price tag' attacks that have escalated in recent weeks.

The body represents 50 of America's leading Jewish organizations

This passing week, vandals targeted the northern Arab town of Fureidis and painted a Star of David and wrote "Close mosques, not yeshivot" on the walls of a mosque, as well as slashing the tires of dozens of cars.

Related stories:

"We are profoundly concerned by the series of acts of vandalism, desecration and violence by a group motivated by extremist ideologies," a statement issued by the Conference of Presidents read, adding their demand that the perpetrators of the attacks be brought to justice.

"Neither the age, religion, nor motivation of those carrying out assaults are relevant to the need for swift and serious action by law enforcement to bring them to justice. Whether the target is a mosque, a church, a synagogue, soldiers or private property, it cannot be tolerated and we urge that the resources necessary be allocated to apprehend those reprehensive."

Noting Israel's upcoming Independence Day, the Jewish American leaders stated that they "celebrate(Israel's) commitment from its inception to the rule of law, democracy and tolerance."

While they welcomed Prime Minister Benjamin Netanyahu and other government officials' condemnation of such attacks, they added that words of warning do not suffice.

"These acts provide fodder for those who seek to denigrate and delegitimize the State of Israel," the statement read, adding that they are aware that those behind the attacks represent "a very small segment of the population and that the people of Israel overwhelmingly reject and denounce their actions."

The Anti-Defamation League, one of the member organizations, released a statement of its own in which it urges authorities in Israel to step up enforcement efforts against those responsible.

ADL National Director Abraham H. Foxman deplored "the recent spate of price tag attacks in Israel". Foxman added that "these heinous actions are antithetical to Jewish values and those responsible - both for inciting and committing the attacks - must be identified and stopped."