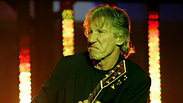 Pink Floyd members urge Rolling Stones to cancel Israel concert
Former Pink Floyd frontman Roger Waters, drummer Nick Mason write open letter to Rolling Stones asking to cancel performance in Tel Aviv; 'Playing Israel now is the moral equivalent of playing Sun City at the height of South African apartheid', letter reads.
Pink Floyd's Roger Waters and Nick Mason issued a statement in which they called on the Rolling Stones to cancel their upcoming concert in Israel, scheduled for June 4.

"Playing Israel now is the moral equivalent of playing Sun City at the height of South African apartheid," the Pink Floyd band members said in statement published by Salon.

Rock, Roll and Boycott

Citing group's past criticism of South African apartheid regime, pro-Palestinian activists call on legendary band 'not to overlook Israel's human rights violations.'

"We are nearing the tipping point in global awareness that the denial of Palestinian rights has had a devastating impact on generations of people, and that they need our support now more than ever.

"Consequently, we encourage you, fellow artists, to ask yourselves what you would do if forced to live under military rule and discriminatory laws for decades," the statement read.

"If you wouldn't play Sun City, back in the day, as you, the Rolling Stones did not, then don't play Tel Aviv until such time as freedom reigns for all and equal rights is the law of the land," the band members concluded.

The Rolling Stones are scheduled to play a concert in Israel, for the first time, at Yarkon Park in Tel Aviv on June 4.

Calls on the band to to cancel the concert were made only hours after producers confirmed the group would perform in Israel.

Rafif Ziadah, a spokesman of the boycott, divestment and sanction (BDS) movement against Israel said that the Rolling Stones had criticized the apartheid regime in South Africa, and compared it to Israel, which he claims also practiced a policy of segregation.

"The Palestinian organizations urge the Rolling Stones: Do not play in apartheid Israel and do not overlook (their) violations of international law and human rights against the Palestinian people," the spokesman said

The Rolling Stones had postponed concerts in Australia and New Zealand earlier this month, following the death of Mick Jageer's long-term girlfriend, L'Wren Scott. However, the concert in Israel is expected to proceed as planned.

Pink Floyd's founder Roger Waters has been a vocal supporter of the Boycott, Divestment and Sanctions (BDS) movement, determined to make it easier to boycott Israeli products. Waters often gives interviews calling for the end of the "Israeli occupation."