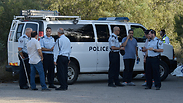 Police at the crime scene
Photo: Police
The Shin Bet and the police are in the midst of a massive manhunt in the wake of the murder of Shelly Dadon, a 20-year-old whose body was found with signs of violence in a parking lot near Migdal HaEmek, a murder currently being investigated as a nationalistically motivated crime.

Dadon was in the area for a job interview, but contact with her was lost after the interview had ended.

Now, her family is attempting to recreate the last day of their daughter's life, in the hopes of aiding the police in their investigation.

"She went to an interview and her body was found in the adjacent parking lot," said Yaakov Dadon, her father.




The father said that in the early morning hours of Thursday, his daughter went to a job interview at HOT, one of Israel's largest telecommunication companies.

"I wished her luck and dropped her off in the Afula Illit interchange. At 9 am, I called her and she didn't answer the phone. At 10 am she was still not answering or responding to messages. At 2 pm my wife said something was wrong with our girl, and I called the police. They asked for her description and told me to come down to the station. I already knew at that point that something had happened. It didn't make sense that she wasn't answering. She's a responsible girl who calls."

A short while after the family reported Dadon missing, her body was found near the Migdal HaEmek industrial area.

Like the police, the father also believes this was a terrorist attack: "She's a girl without a criminal record, she had no confrontations or fights. She knew that if she was feeling that something was wrong, she needed to call me immediately."

Dadon enlisted in the IDF even though she underwent open-heart surgery at a young age. "After a year in the army they found out she is anemic and she couldn't carry on. She was released and worked at the supermarket," the father said.

It remains unclear how Shelly got to Migdal HaEmek. After her father dropped her off in Afula Illit, she was supposed to take public transportation to Afula. "She must have taken a bus or a taxi to Migdal HaEmek. Police is also trying to figure out how she got to Migdal HaEmek," one of Dadon's relatives said.

Her uncle, Yitzhak Orsli, said: "We don't know if she took a bus or a cab. We demand this case is investigated until it is solved, and for it not to be closed unsolved. Anyone who has any information should come forward. Her phone was taking calls until 2 am, it is not possible they can't find it."

Another uncle, Assaf Sharid, said: "The girl was a golden girl. She left home and didn't come back. And for what? Because there are human scums here."

Dadon's body was found on Thursday night near the Ramat Gabriel industrial area in Migdal HaEmek. A routine police patrol in the area noticed the body lying on the asphalt of an empty parking lot.

Police investigators suspect a possible nationalistic motive, but are currently not ruling out other angles.