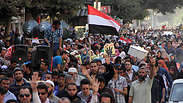 Clashes with Muslim Brotherhood supporters (Archive)
Photo: Reuters
CAIRO - Two suicide bombings in Egypt's South Sinai killed a soldier and wounded at least seven people on Friday, less than four weeks before a presidential election is due to be held, official sources said.

In other violence, a policeman was killed in a Cairo bomb attack while in the port city of Alexandria, two people were shot dead when supporters of deposed President Mohamed Morsi clashed with residents.

Militant attacks and other political violence have spiralled since the army overthrew Morsi, a leader of the Muslim Brotherhood, last July after mass protests against his rule.

Related stories:

Former army chief Abdel Fatteh al-Sisi, who led the action, is expected to win the presidential election on May 26 and 27.

Friday's suicide attack in El-Tur, a town on the main road between Cairo and the tourist resort of Sharm El-Sheikh, killed a soldier as well as the bomber. Three policemen and another soldier were wounded, an Interior Ministry statement said.

Four Egyptians were wounded in the second attack, further south on the road between El-Tur and Sharm El-Sheikh, the Interior Ministry and security sources said.

A spokesman for the governorate of South Sinai province, speaking to CBC television, identified the wounded as employees of a tourism company. The Interior Ministry said they were factory workers.

A third bomb killed one policeman at a traffic security post near a courthouse in Cairo, security sources said. At least four other policemen were wounded, the Interior Ministry said.

The army has been waging a campaign against armed Islamist groups in North Sinai. The influence of such groups expanded in the area after the 2011 uprising that toppled Hosni Mubarak from the presidency. Last month the Egyptian military said it had gained complete control of the Sinai Peninsula.

While most of the recent attacks have targeted the security forces, three South Koreans were killed in February when a bomb hit a tourist bus in South Sinai near a border crossing with Israel.

Tourists are an important source of foreign currency for Egypt's economy but tourist numbers have dwindled over more than three years of political turmoil.

In the Alexandra clashes, two people were shot, the Interior Ministry said. Forty-two Morsi supporters were arrested in protests across Egypt, it added.

The Brotherhood, on its website, blamed the death on security forces.

Underlining political tensions, an Egyptian court sentenced the leader of the outlawed Muslim Brotherhood and 682 supporters to death earlier this week, intensifying a crackdown on the movement and drawing Western criticism.

The European Union has described the verdict as a breach of international human rights law.