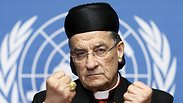 Maronite patriarch Beshara Rai
Photo: EPA
BEIRUT - The patriarch of the Maronite church will travel to Jerusalem next month to greet Pope Francis, the first head of his Lebanon-based denomination to visit since Israel's creation in 1948, he said Friday.

"The pope is going to the Holy Land and Jerusalem. He is going to the diocese of the patriarch, so it's normal that the patriarch should welcome him," Beshara Rai told AFP by telephone from France.

Rai's visit is diplomatically noteworthy because Lebanon remains technically at war with Israel and bans its citizens from entering the Jewish state.

Related stories:

Maronite clergy are able to travel to the Holy Land to minister to the estimated 10,000 faithful, but all other Lebanese are banned.

Rai insisted that the trip will be strictly religious and has no political significance.

"It is a religious visit and in no way a political one."

Rai's deputy Boulos Sayyah, who will accompany him, said the patriarch would not participate in any political meetings in Israel but will meet with Palestinian Authority President Mahmoud Abbas.

He explained that Maronite Christian officials have special permission to visit Israel despite the tensions.

"Since the armistice in 1949, there has been an agreement that the Maronite bishop for the Holy Land can travel from Lebanon to Palestine through the crossing at Naqoura," in southern Lebanon, Sayyeh said.

"A tacit agreement exists to allow other Maronite men and women of religion to go on missions to the Holy Land whether via land crossings or through the Tel Aviv airport because there are faithful there and they need to carry out their missions," he said.

Pope Francis is scheduled to make his first trip to the Holy Land from May 24-26.

The Maronite church has its roots in the Fertile Crescent of the early 5th century. It is named after St Maron, a hermit whose holiness and miracles attracted many followers.

Following a bloody persecution a century later, the Maronite fled to the mountains of what is now Lebanon to seek refuge.

They have their own distinct theology, spirituality, liturgy and code of canon law but are in full communion with Rome.