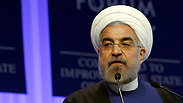 Hassan Rouhani
Photo: Reuters
The Iranian government announced a ban on the messaging application WhatsApp, popular worldwide and recently purchased by Facebook for 19$ billion, saying that the decision was reached because of WhatsApp's aquisition, "by the Facebook founder Mark Zuckerberg, who is an American Zionist," Fox News reported Friday.

The announcement came from the head of Iran's Committee on Internet Crimes, Abdolsamad Khoramabadi and raised concerns that additional social media projects could be shut down in the near future.

"The Revolutionary Guard sees these social sites as a major threat because there's an appeal for young people and the government worries about the exchange of information," an Iranian blogger told Fox News under the condition of anonymity.

Related Stories

"(Supreme Leader) Khamenei and his cronies, caught on to the power and potential of these sites after the (Green Revolution) uprisings," said the blogger.

Use of Iranian social media sky-rocketed in the wake of post-election uprisings in 2009 when protesters faced violent government suppression and turned to the internet where they felt that they could speak more freely.

According to Fox News, Khoramabadi said that there were no current plans to block any sites besides WhatsApp, but also that possible bans could be discussed in the future.

Thirteen government officials sit on the committee that polices internet users, six of whom are also members of Iranian President Hassan Rouhani's cabinet with Khoramabadi at their head.

The move comes as a surprise for some since Rouhani and other government officials have been well-known for their utilization of Twitter and Facebook for world-wide communication.