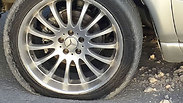 Slashed tires of Acre resident
Photo: Hassan Sabach
Acre resident Hassan Sobach became the latest victim of a "price tag" attack Saturday, when car was vandalized at a parking lot near Nahal Hashofet, in the north of Israel. The vehicle's tires were punctured and graffitied with the words "price tag" and a Star of David. Sobach called the police, who have begun an investigation.

"I came with my family to tour the area," Sobach told Ynet. "We had a good time, but the end of the day was very disappointing. The situation is bad; we hear about price tags on a daily basis and there is no one to stop the perpetrators."

Related stories:

Sobach expressed frustration that the authorities have not put an end such attacks, carried out by extremist Jews opposed to any concessions to the Palestinians or demolition of illegal settlements outposts.

"The sad part is that it could happen repeatedly. It's about time someone stopped these lawbreakers," he said.

The incident is the latest in a series of similar attacks over recent weeks that have spread into areas inside the Green Line. On Tuesday, the tires of dozens of vehicles were slashed in the Arab town of Fureidis, and a Star of David and the writing 'Close mosques, not yeshivot' was spray-painted on the wall of the town's mosque.

In Yokneam, there has been a string of attacks on Arab and Druze property, including attacks on cars. In one incident, a Star of David was spray painted on the wall of a clinic operated by a Druze dentist in the city.

On Wednesday, two men were arrested for suspected involvement in arson at a mosque in Umm al-Fahm. On Friday, the police reenacted the attack at the mosque in order to film it on the building's security cameras, which had also recorded the suspects fleeing the scene, and compare the two sets of footage.