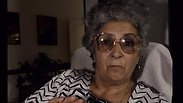 Tayeb's mother Shoshana
Photo: Amikam Horesh
For over 40 years the family of Corporal Tzion Tayeb has been convinced that he wasn't killed in combat on Mount Hermon during the Yom Kippur War as the IDF told them.

Tayeb's family arrived at Mount Herzl military cemetery on Friday to exhume the body of their lost family member and found an empty grave.

Tayeb was reported missing after Syrian commandos won control of Mt. Hermon from IDF forces. Syrian soldiers captured by the IDF during the war revealed the location, during questioning, of a mass grave near military posts on the Hermon.

Related Stories

According to the IDF, Tayeb's body lay in the grave and was positively identified by finger-print but Tayeb's mother Shoshana (87) couldn't be convinced that her son was in fact dead.

Even when the Supreme Court delayed the family's petition in February to open the grave on Mt. Herzl to put her suspicions to rest, she received reply from the IDF that there was no doubt about the circumstances of Tayeb's death.

On Friday the family journeyed to Mt. Herzl with two expert Pathologists from the US and began to dig.

"We opened the grave and dug 1.80 meters down, but there was nothing there," said Tayeb's sister Cathy Oliver. "There was just dirt and dirt. My brother wasn't buried here. I don't know where he is. Maybe he's still a captive, or maybe he was buried somewhere else."

According to Oliver, the family's attorney, Shlomi Tzipori planned to release evidence on Sunday that will support their claims.

The IDF spokespersons unit replied to the family's suspicions saying, "The High Court received the State's official stance and ruled that there had been positive identification on the body, therefore there were no grounds to open the grave. The IDF sympathizes with the family and will continue to help in any way possible."