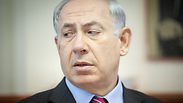 Netanyahu at the weekly cabinet meeting.
Photo: Emil Suliman
Prime Minister Benjamin Netanyahu defended his Basic Law: Nationality proposal on Sunday, saying Israel's Jewish character needs to be enshrined in legislation in order to prevent a bi-national state.
"There are those who do not want the State of Israel to be defined as the nation-state of the Jewish People. They want a Palestinian nation-state to be established alongside us and that Israel should gradually become a binational, Arab-Jewish state inside shrunken borders," Netanyahu said at start of the weekly cabinet meeting.
"But I simply say that one cannot hold the national stick at both of its national ends.They cannot say that they want to separate from the Palestinians in order to prevent a binational state, which has a certain logic, and also sanctify a binational, Jewish-Arab state within the permanent borders of the State of Israel," he added.
Related stories:
Israel's basic laws, Netanyahu said, give full expression to its democratic nature by "providing full equal rights to every citizen in Israel. The basic laws do this via two main laws – Basic Law: Human Dignity and Liberty and Basic Law: Freedom of Occupation."
"On the other hand, that the State of Israel is the nation-state of the Jewish People is not sufficiently expressed in our basic laws, and this is what the draft basic law is meant to provide," he said. "It will define the national right of the Jewish People over the State of Israel, without infringing on the individual rights of any Israeli citizen in the State of Israel."
The prime minister noted the bill will also "reinforce the status of the Law of Return as a basic law" as well as establish national symbols - "flag, anthem, language and other aspects of our national experience."
Netanyahu has caused a stir in the political system on Thursday when he announced intention to promote a Basic Law that would enshrine the country's status as the nation-state of the Jewish people.
But the prime minister has assured that the law "will be formulated in dialogue with all components of the coalition so that the values of the State of Israel as a Jewish and democratic state are preserved."
He also stressed this wasn't a political issue. "When the opposition, during the previous government's term, proposed a draft law on this issue, I announced immediately that I would support it."
The issue of Israel's status as a Jewish state figured prominently in the peace talks between Israelis and Palestinians that recently broke down. Netanyahu demands that Palestinians recognize Israel as the Jewish homeland to prove they are willing to coexist peacefully with such a state.
In lieu of a formal constitution, a series of Basic Laws adopted by parliament since Israel's founding define governmental, legislative and judicial powers, protect civil rights and codify Jerusalem's internationally disputed status as the country's capital.
A new Basic Law declaring Israel a Jewish state would largely be symbolic, an Israeli official said. "It is declaration to show that this is part of our national ethos."
Israel's Basic Law declaring Jerusalem, including the eastern sector captured in a 1967 war, its "eternal and indivisible capital" does not carry any punitive measures against those who oppose that declared status.
Palestinians still fear this label would lead to discrimination against Israel's sizeable Arab minority, which makes up a fifth of its population, and negate any right of return of Palestinian refugees from wars since 1948 to what is now Israel.