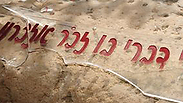 Vandalized monument for the fallen
Photo: Herzl Yosef
Just hours before Memorial Day events began, students from AMIT high school in Beersheva were shocked to discover Sunday morning that vandals desecrated the monument honoring the memory of the school's 16 fallen soldiers. Police were called to the scene and opened an investigation of the incident.
Meir Asulin, whose son Doron was killed in the Gaza Strip six years ago, received a phone call form the school's headmaster on Sunday morning, who told him that the monument was vandalized and the plaque with his son's name on it was smashed.
Related stories:
"The headmaster said that everything was broken," said Asulin. "It is absolutely infuriating that something like this can happen. It's unheard of that on the day dedicated to the memory of the fallen soldiers, this act of vandalism can occur," said Asulin.
The bereaved father added that the same thing happened last year when unknown vandals wrecked the place. "They haven't caught the perpetrators back then," he said.
"Last time they smashed a few signs, but this time they really went overboard and basically ruined everything, which makes me really angry. When something like this happens in a mosque, the prime minister, the president and MKs condemn the act, but when this happens, no one is doing anything. I am very curious whether they would comment on this incident – it's because of these fallen soldiers that those Knesset members are alive and well today," added Asulin.
"I honestly don't know what to say to families that will arrive there tomorrow. We called it the Garden of the Fallen, the students come there to pay their respect and to remember the fallen soldiers. I am speechless."
High school headmaster Elisha Peleg said Sunday "we are all disgusted by the despicable person who committed these acts. This is systematic vandalism and hurting the memory of the school's 16 heroes. Tomorrow morning we will hold the Memorial Day ceremony and at the same time we will think about how much evil it takes to perform such an act."
Police gathered evidence from the scene and the investigation continued both on the public and the intelligence levels. Beersheva Police Chief, Commander Moshe Ivgi, said police is taking this event very seriously and is putting in all of its resources to discover who is behind this.