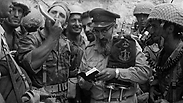 Chief Rabbi with the Torah scroll in 1967 near the Western Wall
Photo: Benny Ron
The iconic Torah scroll seen in the Six-Day War victory picture from the Western Wall will be returned to the IDF and be placed in a special case in the Chief of Staff''s office, bringing an end to a decades long dispute.

As part of a settlement agreement, it was decided that that the family of Rabbi Shlomo Goren, the IDF's cheif rabbi during the war, will return the scroll donated to them in 1949 by the family of Baruch Shapira, who was killed in the War of Independence. It will then be placed inside a Torah case built in the Chief of Staff chamber at HaKirya military base in Tel Aviv.

Related stories:

The scroll will be placed in case in six months time, at a special ceremony attended by the Chief of Staff Lt.-Gen. Benny Gantz, representatives from the Defense Ministry, the chief military rabbi and representatives of the Shapira and Goren Families.

The IDF confirmed the details and added that as part of a settlement agreement, a plaque will be placed next to the Torah, which will detail the story of the scroll from the days it was donated by the Shapira family until it reached Rabbi Goren.

The Shapira family, who began their struggle 23 years ago, claimed they haven't been kept in the loop regarding the agreement. "Throughout the years they refused to tell us the location of the scroll," said Avi Shapira, nephew of the late Baruch.

According to him, during the talks to formalize the agreement, an initiative began to transfer the scroll to the Goren family twice a year for a month and a half, but the Shapira family objected. Avi Shapira also stated that the family donated a library with the scroll, but over the years it was neglected.

"When the commander of the IAF retires, does he take an aircraft home with him? Then why should the Chief Rabbi take a scroll belonging to the military? The book is being held hostage for a long time," stressed Shapira.

Shapira also said that during the dispute with the Goren family, Baruch's father, brother, uncle and friends from the war had passed away.

The family has protested about the six month time period for the scroll's return. "There are few that are still alive and our concern is that they may not live to see the scroll back in its natural place. This delay is just a tactic meant to buy more time. Every day the scroll is not in its rightful place inside the military ark, it desecrates the memory of the fallen soldier and the bereaved family members who are no longer with us."