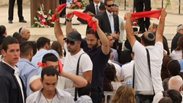 Bereaved families' protest
Photo: Gil Yohanan
The memorial service for Victims of Terror Acts was disrupted Monday afternoon when bereaved families prevented Prime Minister Benjamin Netanyahu of starting his speech by yelling at him and waving red flags.
Rami Cohen, who was wounded in a terror attack in 2000, got up from his seat and called at Netanyahu: "Mister Prime Minister, you are freeing the murderers of our children!"
"No one is paying attention to us, no one hears us. I've been sitting at home for the past 14 years and can't function. Terrorists are being releases every other day and I can't take it anymore. I haven't had a happy day in 14 years," Cohen told reporters after the ceremony.
Cohen, who was a taxi driver, said he was stabbed 14 times by a terrorist who got into his cab on December 20, 2000.
"After he cut me all over he got 22 years imprisonment. That's a joke. I was at all of the court hearings and the terrorist was smiling, he must know something I don't know - that terrorists will be released."
When he was allowed to speak, the prime minister said that "the terror acts against us have been going on for nearly 100 years. They've increased durin the 1936–39 Arab revolt, during which hundreds of the Jewish settlement were murdered. Today, almost 80 years afterwards, those waves of hate of our enemies who have yet to accept our right to exist are shattered at the defensive shield, the iron wall of the IDF and the other security forces."
Netanyahu added that "our ongoing war for survival has cost and still does many victims, and many names are etched on the wall behind me - innocent civilians, Jews and not Jews, men and women, from babes to white of hair - who fell victims to terror and hatred organizations."
"Dear family members, today we remember our beloved, whose lives were severed and whose story is an inseparable part of the revival of the nation of Israel in its country," he added.
On the matter of the release of terrorist prisoners, Netanyahu said that "the decision that has been made was difficult, it goes against the value of justice - everyone feels this way. The complicated reality in our region has created a situation in which, for the last four decades, the governments of Israel had to make decisions that were hard to bear - over and over again. I know I will meet you here, but I viewed it as my responsibility as the prime minister of Israel. I salute your bravery and resistance."
Aeybi Moses, whose wife Ofra and son Tal were killed in a 1987 terrorist attack, spoke on behalf of the families of terror victims.
"I stand here today on this stage - alive and breathing," he said. "It's true, I laugh and joke around a lot, seemingly living a routine life, but the terror of that day is not letting me and will not let me go. I, gentlemen, am only one of tens of thousands of Israelis carrying the victims of terror attacks with me."
Moses, a director at the Terror Victims Association, criticized the fact victims of terror were not included in the State Memorial Hall on Mount Herzl.
"The price of blood that our loved ones paid, the dead who are not longer with us, and we the living who carry the scars, feel that in a way, we have no official commemoration. A respectable Memorial Hall that symbolizes the national pain, the empathy towards the victims of terror acts - babies, children, mothers, fathers, grandfathers and grandmothers - whose only crime was being Jews in their country," he said.
He called on the president and the prime minister to build an official state memorial for terror victims.
The number of bereaved families in Israel on the eve of Memorial Day is 17,038, and the 'bereaved family', as the group is collectively called in Israel, was joined by the family of Chief Superintendent Baruch Mizrahi, killed on Passover eve en route to his seder near Hebron.
The 'family' numbers 2,141 orphans, 9,931 bereaved parents, 4,966 widows and widowers. According to Defense Ministry data, 87% of bereaved parents and 74% of widows were above 60 years of age.