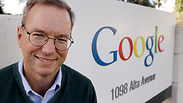 Google's Executive Chairman Eric Schmidt
Photo: AP
The proliferation of communication technologies has advanced at an unprecedented speed. By 2025, the majority of the world's population will have gone from having basically no access to information, to all of the world's information in the palms of their hands.
This could revolutionize every aspect of society-politically, socially, and economically. It's what makes working in the technology industry so exciting today. It's not just because we have a chance to invent and build amazing new devices, or because of the scale of the technological and intellectual challenges we will try to conquer; it's because of what these developments will mean for the world.
If we want to live up to this potential, we'll have to rethink the approach to entrepreneurship that's become all too common in recent years. Apps providing pointed solutions, fun gimmicks, and incremental quality-of-life improvements are all great. But we could be doing a lot more with our talent, our time, and our capital resources.
Over 1.3 billion people, for example, live without reliable access to electricity. Water and agricultural crises loom just over the horizon for all of us, even in the industrialized world. Close to half of the world's adult population does not use basic financial services to save or borrow money. And we are still trying to rid the world of some of our deadliest, yet curable diseases.
These are hard problems with uncertain answers. In other words, they're precisely the sorts of problems technologists love, and should be working to address. We've seen some amazing and innovative solutions in recent years.
Small, cheap satellites are being launched into space to take images that can improve the way we harvest and produce food. Mobile applications make banking and healthcare accessible from anywhere. Data science is helping us track disease outbreaks, manage treatment, and work toward cures.
Israel's entrepreneurs have a long history of innovating in areas like these. Chemist Daniel Shechtman won a Nobel Prize in 2011 for discovering quasicrystals, now used in everything from surgical instruments to LED lights. Stuart Licht and Ran Tel-Vered, of the University of Massachusetts and the Hebrew University of Jerusalem, developed the super-iron battery, a cutting-edge, rechargeable power source.
Capsule endoscopy, a swallowable "pill camera" for medical diagnostics, has reduced the need for costly and invasive surgical procedures; Given Imaging, an Israeli company, pioneered the device. These are just a few examples.
Moreover, Israeli entrepreneurs have what it takes to take on these grand challenges. On his most recent trip to Israel, Eric met with some of the smartest and most ambitious entrepreneurs he's ever seen. They sought out risky, long-term challenges. They were unafraid to apply technology to real solutions, not just beautiful products.
Their training, acquired in the military and at Israel's top-tier universities, gave them an unparalleled knowledge in cutting-edge domains of chemistry, applied physics, and computer science. They've developed a collaborative culture, generating a continuous flow of knowledge between entrepreneurs, new and old.
Today, the government's continued commitment to funding research, coupled with the growing presence of industry players from the U.S., China, and other countries, prepares Israel to have an oversized impact on the evolution of the next stage of technologies the world will use.
Technology, however, doesn't just work by itself. It's a tool. It needs to be harnessed by entrepreneurs and innovators. If technology is going to make the world a better place, we need Israeli entrepreneurs to embrace these new challenges, and to use their abilities to solve some of the world's biggest problems--and, in doing so, build the world's most important and successful companies.
But to do it, entrepreneurs must challenge themselves to think big, and to use their Israeli tenacity and boldness to tackle these challenges head on. That's why we launched our fund, Innovation Endeavors, in Israel and the U.S. We want to support the sort of entrepreneurs who will solve tomorrow's global challenges--the biggest problems, whose solutions will yield the biggest results.
We believe that disruption will come from the intersection of today's markets and emerging technologies, such as machine learning, robotics, computer vision, and artificial intelligence. We have such confidence in the Israeli entrepreneurial ecosystem that we've made Israel a key hub for our investments. Over the next few years, we plan to significantly grow our investments in Israel, together with our local partner, Yuval Shachar.
We partner closely with our Israeli founders, connecting them to our international community of over 200 founders--helping them bridge the gaps that exist between Israel and Silicon Valley, as well as other markets.
We are in the midst of a spectacular time in history. Technology is enabling us to solve problems and connect in ways that were never possible before. It is up to us--the entrepreneurs, company builders, and investors--to use the resources and skills we have to build large, lasting companies that have a significant impact on the world.
That was the driver behind Innovation Endeavors. We are excited about the partnerships we will undertake in the years to come, with Israeli entrepreneurs who are committed to changing the world. We wish you all a happy 66th Independence Day!