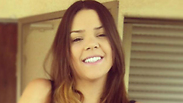 Internal Security Minister Yitzhak Aharonovitch met Monday afternoon with the family of Shelly Dadon from Afula, who was murdered on Thursday in Migdal HaEmek, and said police has made progress in the investigation of Dadon's death.

"There's been a lot of progress in the investigation and you could say the progress is dramatic. Police and Shin Bet will arrest the low life murderers soon," Aharonovitch said.

Dadon's father said Prime Minister Benjamin Netanyahu has called the family and updated them on developments in the investigation.

Related stories:

Aharonovitch added that he's "been deal with the issue of a sense of security from day one. I can tell you police has received 1,500 policemen - including in Afula and Migdal HaEmek. City watch and all police stations have received reinforcements."

He promised to try and do more for Afula's security.

Dadon, 19 years-old from Afula, was murdered on Thursday on her way to a job interview. Police suspect a nationalistic motive.

Her body was found with multiple stab wounds in an empty parking lot near the Ramat Gabriel industrial area in MigDal HaEmek.