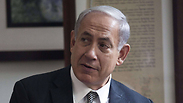 Prime Minister Benjamin Netanyahu
Photo: AFP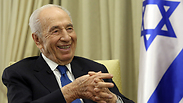 President Shimon Peres
Photo: Gil Yohanan
In special video greetings to the Jewish communities in the Diaspora, President Shimon Peres and Prime Minister Benjamin Netanyahu wish Jews a happy 66th Independence Day, and urge them to take pride in Israel and its achievements.
In his last Independence Day address as president, Peres called for peace: "Our Jewish values should be our guiding light, inspiring us to persevere in the pursuit of peace, a Jewish mission – and a dream – in which we must never lose faith. For those who seek a better tomorrow for our country, the promise of peace shines as a beacon of hope, calling us to stand strong against the hurdles on the path to harmony."
In a video statement, Peres said "as we stand poised to celebrate Israel's 66th anniversary, we take a moment to reflect on the past... together we take pride in Israel's achievements and prepare to build a brighter tomorrow for Israel and the Jewish people in the best of Jewish tradition – Tikkun Olam."
Peres further said "the year ahead will present us with many challenges. The shifting sands of the Middle East generate a sense of insecurity in what tomorrow holds. Change, however, can also present opportunities for new and better prospects that should be seized. With this in mind, Israel strives to become a significant contributor to the development of our region and to the world at large.
"My sisters and brothers, on this auspicious day of Yom Ha'atzmaut, my message goes out to each and every one of you: Be proud of our heritage, continue to stand united in a spirit of solidarity and partnership, and continue to build a future for our country and people with the hope for peace in your hearts."
Prime Minister Netanyahu said "Israel's Independence Day is a time for celebration. And for justified pride in Israel's many amazing successes."
"Yet we didn't only create a state. We have ingathered into our homeland a people that had been scattered around the globe. We have defended ourselves against the attacks of hostile neighbors, overcoming threats faced by no other country. We have built a vibrant democracy in which freedom is sacrosanct, guaranteeing equality under the law and the rights of every citizen. We have created a robust economy, a global technological superpower. We have signed peace treaties with two of our Arab neighbors, while we quietly talk with many more.
"So on this 66th Independence Day, I want to thank Israel's many friends around the globe for their steadfast support for the one and only Jewish state," Netanyahu said.