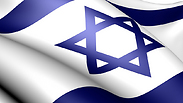 Israeli flag
Photo: Shutterstock
As Israelis headed out to the national parks for the traditional Independence Day barbecue on Tuesday, President Peres marked the country's 66th year by honoring 120 outstanding soldiers and singing songs, the IDF opened its bases to the public, the IAF held an aerial display across the Israeli sky and contesters from across the world competed at the International Bible Contest.

An honorary IAF aerial display flying over the President's Residence in Jerusalem on Tuesday morning opened the day's celebrations. President Shimon Peres and Chief of Staff Benny Gantz then met with 120 outstanding IDF soldiers and officers who will be honored for meaningful service and extraordinary contribution to the IDF and the State of Israel.




Peres and Gantz were then joined by Prime Minister Benjamin Netanyahu, Defense Minister Moshe Ya'alon and other dignitaries for the "Singing Independence" event at the President's Residence, where the Israeli leaders sang some of their favorite songs by the late Israeli singer Arik Einstein with some help from the nation's famous singers, and enjoyed performances from the IDF band.





At 11 am, contesters from all over the world took part in the International Bible contest in Jerusalem, with Prime Minister Benjamin Netanyahu and other dignitaries in attendence. For the first time, a Canadian Jew won the contest, 18-year-old Eitan Amos from Toronto.

A little before 11 am, the Israel Air Force's traditional aerial demonstration started over Beersheba, making its way across the country. The IAF's fighter jets, helicopters and cargo aircraft flew over the Israeli coastline, as well as over the Knesset in Jerusalem, Tiberias, and cities along the Gaza border.






Like every year, the IDF has opened a few of its bases to visitors to exhibit the army's armored vehicles, tanks, and advanced weaponry.

In Beersheba's Natan base, Ordnance Corps soldiers were on hand to teach visitors about tanks and other weapons, while in the Yad La-Shiryon museum in Latrun, visitors witnessed a military display by soldiers from the Ground Forces, the Armored Corps, the Artillery Corps, the Engineering Corps, the Field Intelligence Corps, Infantry troops and the Paratroopers Brigade.

The Israel Navy did an honorary flotilla off the coast of Eilat that included Dvora-class fast patrol boats, Nachshol reconnaissance boats and other vessels.




Visitors enjoyed exhibitions of past and present military aircrafts in Ramat David, Tel Nof and Ovda IAF bases and the Air Force IAF Technological school in Haifa. The Hatzerim Air Force museum also had a flyover, as well as an exhibition of past and advanced helicopters.

Independence Day celebrations will end with the Israel Prize ceremony at the International Convention Center in Jerusalem.

Yoav Zitun contributed to this report.