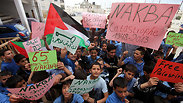 Nakba Day protests in Hebron
Photo: EPA
Over half of Israeli Jews are against government support to institutions that commemorate Nakba Day, according to a poll conducted by the Israel Democracy Institute published on Sunday.

Nakba Day ("Day of Catastrophe") is commemorated on May 15 in the Palestinian territories and other countries, a day after the end of British mandate over Palestine and Israel's Declaration of Independence.

It is the annual day of commemoration of the formation of Israel and the displacement of Arabs that preceded and followed the formation of the State of Israel on May 14, 1948. An estimated 700,000 Arabs fled or were expelled and hundreds of Arab towns and villages were destroyed during the 1948 Independence Day.

Related stories:

The poll found that 58 percent of Israeli Jews will support a law that would authorize Finance Minister Yair Lapid to reduce the government's financial support to institutions marking Nakba Day, while 33 percent of Israeli Jews do not support such a law.

Among those who support such a law, 57 percent half identified themselves as right-wing, 70 percent defined themselves moderate-right, 62 percent consider themselves centrists, 41 percent of them identified with the moderate left and 19 percent with the left-wing.

The survey also checked how many Israelis consider Independence Day to be a holiday. Among the Israeli Jews, a majority of 87 percent considered it a holiday. Among the Israelis Arabs, only 24 percent consider it a holiday while 68 percent do not.

As Shimon Peres' tenure as president is about to come to an end, Israeli Jewish survey respondents were also asked about their preferred presidential candidate. Likud MK Reuven Rivlin recieved 32 percent support, followed by Prof. Dan Shechtman (13 percent), Benjamin Ben-Eliezer (10 percent), Dalia Dorner (8 percent) and finally, Meir Sheetrit (7 percent). Thirty percent of respondents did not know or refused to answer.

The survey was conducted by the Israel Democracy Institute on April 28-29, 2014. It included 600 respondents who constitute a representative sample of the adult population of Israel. The margin error for a sample of this size is ±4.1 percent.