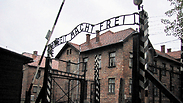 Auschwitz death camp
Photo: EPA
The Auschwitz museum has been hit recently with a wave of theft and vandalism, with visitors scratching messages on the walls and taking "souvenirs" from the most notorious Nazi extermination camp, the British Telegraph reported on Monday.

Visitors have scratched messages onto bed bunks used by the camp's prisoners, including etching their names with the tag "was here" onto walls and furniture, according to the Telegraph. One visitor even noted "I had a smoke here."

Some of the visitors stole pieces of barbed wire from the camp's fences and spikes from the railway line that led millions to their deaths during World War II.

Related stories:

And while this type of behavior is normally expected of young people, Auschwitz museum director Piotr Cywinski said that sometimes "even teachers and foreign tourists take things."

Stopping these acts becomes difficult due to Auschwitz-Birkenau's sheer size. The camp's 150 buildings are scattered across over 200 hectares, which makes monitoring every inch of the camp at all times impossible.

Meanwhile, Poland's Culture Ministry, which is responsible for the museum, has objected to the installation of CCTV systems in the camp, saying it would compromise the authenticity of the camp.

While Cywinski called for better education on the subject, others demanded harsher legal punishments to anyone caught vandalizing or stealing from the camp, according to the Telegraph.