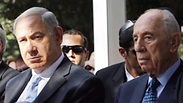 Prime Minister Netanyhau with President Shimon Peres
Photo: Ohad Zwigenberg
Israeli President Shimon Peres said Tuesday that Prime Minister Benjamin Netanyahu blocked a 2011 peace agreement he had secretly negotiated with Palestinian leader Mahmoud Abbas.

Peres said he and Abbas had finalized a draft agreement in a series of secret meetings in neighboring Jordan but the draft was rejected by Netanyahu's right-leaning government.

"We had gone through all of the points and the agreement was ready," Peres told Israel's Channel Two television in an interview on the occasion of Israel's Independence Day.

Related Stories

"Netanyahu told me to wait a few days because he thought that Tony Blair could get a better offer," Peres said, referring to the former British prime minister who is the envoy of the Middle East peacemaking quartet of the European Union, Russia, the United Nations and the United States.

"The days passed and there was no better offer."

It was not the first time that the secret talks between Peres and the Palestinian leader had been revealed.

In August 2011, Abbas told a meeting of his ruling Fatah movement that he had held four rounds of talks with the Israeli president, who was one of the architects of the Oslo accords of 1993 that established the Palestinian Authority.

"After the first four meetings, a fifth meeting was planned in Amman but Shimon Peres made his excuses and told me: 'I'm sorry but the government doesn't accept what we have negotiated and there's nothing more I can do'," he said.

In Israel, the post of president is largely ceremonial and executive power rests with the prime minister. Peres is to retire next month at the age of 90 after a political career spanning nearly seven decades.

His comments come with the peace process that he won the Nobel Peace prize for helping to launch in tatters after the collapse in late April of nine months of US-brokered peace talks between negotiators for Abbas and Netanyahu.