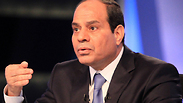 Egyptian Presidential front-runner Abdel Fattah el-Sisi
Photo: AFP
Should he win the country's upcoming presidential elections, Egypt will respect all former peace agreements with Israel, Abdel Fattah al-Sisi said in an interview on Egyptian television aired this week.
But speaking to the two privately owned channels, al-Sisi stated that he wouldn't be making any visits to Israel until the creation of a Palestinian state with Jerusalem as its capital.
The hour-long interview, the first in the presidential campaign of the 59-year-old army chief turned would-be politician, was aired in two parts on Monday and Tuesday.
"There is a true opportunity here to have peace that will give Palestinians hope. This hope will lead to lots of good things in the region," al-Sisi, who is currently the front-runner in the elections, said.
Related Stories
Former Egyptian ambassador to Israel, Muhammad Asim, told Egyptian newspaper "Al Youm Al Sabe'a" after the interview aired that al-Sisi's statements put the ball in Israel's court.
"If Israel wants the Egyptian President to make a visit, the country has to withdraw from the West Bank and go back to the '67 borders," he said. "Al-Sisi gave Israel two options: peace or disassociation. The second choice will only result in a cold peace."
In the interview, al-Sisi also addressed his plans for the Islamist Muslim Brotherhood, which was ousted from power last summer after just one year, saying that the party would simply not exist while he remained president.
"It's not me that finished it, the Egyptians have. The problem is not with me," he said.
The Brotherhood and its Islamist allies won every election following the 2011 ouster of autocrat Hosni Mubarak, dominating the parliament and capturing the presidency under Morsi. The Brotherhood's electoral strength was largely rooted in a widespread grassroots organization it had built up for decades despite being banned under Mubarak.
But after a year in office, millions joined protests demanding Morsi's removal, accusing his Brotherhood of monopolizing power and seeking to change the country's identity along the lines of Brotherhood ideology — prompting al-Sisi's ouster of Morsi.
He said the Brotherhood's ideology was based on "arrogance in religion" — and the presence of that strain of thought had destabilized Egyptian society for decades.
"The thought structure of these groups says that we are not true Muslims, and they believed conflict was inevitable because they consider us non-believers," he said. "It will not work for there to be such thinking again."